Professor:Elgin K. Eckert - Ph.D.
Download now
This is most recent syllabus. Your final syllabus will be given during your first day of class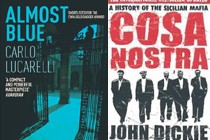 Course Description
This course will study representations of the Mafia and (organized) crime in Italian and American literary and cinematic texts, providing insights into society and culture's fascination with the crime fiction genre. We will examine the different expressions of the genre and its subcategories (traditional detective stories, hardboiled, noir, legal thriller, fictional reality) and consider the aesthetics of crime fiction both in literature as well as in cinema. 
Through a systematic study of canonical Italian and American films and a variety of literary texts, you will become familiar with the narrative codes and conventions of the genre and analyze how various writers and filmmakers adhere, diverge, or evolve from the established codes.
Course Objectives
In the course, you will:
Become familiar with numerous canonical works of Italian and American cinema;
Explore typical narrative dynamics behind Italian and American films dealing with the mafia
Become familiar with basic cinematic techniques;
Critically analyze different genres of film according to their typologies;
Gain an understanding of the historical and social framework of the mafia both in Sicily and in the United States;
Be able to relate films to their specific sociological and historical contexts;
Acquire a sufficient appreciation of the representation of phenomena of organized crime in Italian and American cinematic popular culture.
Course Materials
Literary Texts:

Carlotto, Massimo. The Goodbye Kiss

Giancarlo de Cataldo (ed.). Crimini: The Bitter Lemon Book of Italian Crime Fiction
Carlo Lucarelli. Almost Blue
Textbooks (excerpts included in the course reader and handouts):

John Dickie. Cosa nostra: A History of the Sicilian mafia
Renga, Dana. Mafia Movies: A Reader. Toronto: University of Toronto Press, 2011.
Renga, Dana. Unfinished Business: Screening the Italian Mafia in the New Millennium. Toronto: University of Toronto Press, 2013.
Siebert, Renate. Secrets of Life and Death: Women and the Mafia. Verso, 1996.
Cinematic Texts:

The Cat and the Goldfinch (An Inspector Montalbano Mystery)
Godfather
GoodFellas
Donnie Brasco
A Bronx Tale
I cento passi (One Hundred Steps)
Le consequenze dell'amore (Consequences of Love)
La ragazza siciliana (The Sicilian Girl)
Io non ho paura (I'm Not Scared)