Archaeology Students Dig into Life in Italy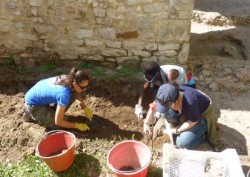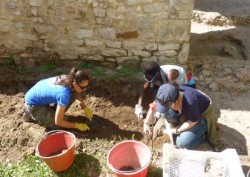 Students work at the previous dig site
This weekend, the Umbra Institute excitedly welcomed participants to the third edition of its Archaeology Field School in beautiful Castiglione del Lago, on the shores of Lake Trasimeno, near Perugia. After the promising results of an extensive survey and digital mapping of a vast area, conducted in 2015, this year's students will have the unique chance to experience an archaeological dig.
As a preliminary step, the site area has been delimited through geological investigations (geoprospection), that revealed hidden structures beneath the surface where field school students will be working. The first analysis seems to indicate the ruins of a Roman villa, but this is still a work in progress and the full extent and historical context of what lies beneath is not yet known.
The field school is run in cooperation with the Soprintrendenza Archeologia dell'Umbria (Archaeological Superintendency of the Region of Umbria) and the Comune di Castiglione del Lago (City Government of Castiglione del Lago). It guarantees an exceptional educational opportunity, that can only be offered through hands on, professional work experience.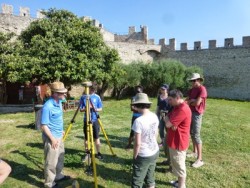 Students arrived in Perugia on Saturday where, throughout the weekend, they got to know the city and the institute through a welcome dinner, guided tours, and orientation meetings. Yesterday morning, students were shown around their new home in Castiglione del Lago; as this week goes on, they will experience their first survey of the archaeological area and begin working on the excavation site, which will be their open-air classroom for the remaining five weeks of the program.  
Click here to read more about the Trasimeno Archaeology Field School.