Note: This course was formerly THIT 360.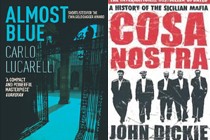 Course Description
This course will study how mafia and organized crime are presented in Italian and American cinematic texts. The course will examine the different expressions of the crime film genre, which dates back to the beginnings of filmmaking, focusing on the technical, visual, and aesthetic aspects of crime films. Through a systematic study of canonical Italian and American films, students will become familiar with the narrative codes and conventions of the genre and analyze how various writers and filmmakers adhere, diverge, or evolve from the established codes. The latter part of the course will be dedicated to new expressions of the genre, the made-for-small screen series (TV, Netflix) and theoretical discussion will consider the shift in audience preference from feature films toward series that has taken place over the last two decades.
This course will provide students with the tools necessary to analyze films: basic cinematic techniques (shot, camera movement, cinematography, editing, sound) will be reviewed, and more advanced issues in cinema analysis (narrative, performance), as well as core critical concepts (especially genre vs. auteur theory), will be introduced and applied when analyzing specific films.
Course Objectives
Students in this course will:
become familiar with numerous canonical works of Italian and American cinema;
explore typical narrative dynamics behind Italian and American films and series dealing with the mafia and other organized crime;
become familiar with basic and more advanced cinematic techniques in order to view films in an active and critical manner;
use core critical concepts in film studies to analyze films;
become versed in special techniques of film analysis; and
acquire a sufficient appreciation of the representation of the phenomena of organized crime in Italian and American cinematic popular culture.
Course Materials
Textbooks:
Sikov, Ed. Film Studies: An Introduction. NY: Columbia UP, 2010.
Corrigan, Timothy, and Patricia White. The Film Experience: An Introduction. Boston: Bedford/St. Martin's, 2004. 222-252. (on reserve in the Umbra Institute Library)
Barker, Cory, and Myc Wiatrowski. The age of Netflix: critical essays on streaming media, digital delivery and instant access. McFarland & Company, Inc., Publishers, 2017.
Films:
The Godfather
Io non ho paura (I'm not scared)
I cento passi (One Hundred Steps)
Goodfellas
The Departed