Note: This 1-credit course is required for all students pursuing the Certificate in Food & Sustainability Studies. It is only open to students in the FSSP.
You will automatically be enrolled in this course if you are in the Food & Sustainability Studies Program.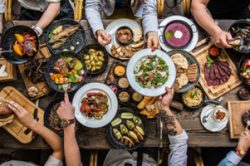 Course Description
In this one-credit course, students engage in a series of experiential learning activities designed to supplement their coursework in the Food & Sustainability Studies Program (FSSP). Activities and related assignments are designed to give students hands-on experiences through which they can witness ideas being put into practice. The combination of on-the-ground activities combined with critical reflection on their experiences gives students in both the food studies track and the sustainability and environmental studies track opportunities to participate in co-curricular activities through which key topics and concepts are related to practical and applied situations and to engage in community-based learning and similar field experiences that connect classroom learning to real world problem-solving.
The course culminates with Umbra's La Prova del Cuoco (the Cook's Test) competition. Throughout the semester, student groups participate in activities designed to prepare them for this competition, in which each group will prepare a sustainable Italian meal. During the final week of the semester, members of the Umbra community are invited to enjoy and score these meals. The group that earns the most points is crowned the winner. In preparing for and executing this meal, students delve into the history of Italian food culture; various issues related to food production, distribution and preparation; and the intersections between Italian foodways, sustainability, and the environment.
Course Objectives
By the end of the course, students will be able to:
summarize how the series of co-curricular course activities supplemented and integrated with their classroom and community-engaged learning;
generate a list of the various human and natural systems (at various scales) and the feedback loops between them, especially in Italy;
articulate how the experiences in this course could be pursued in graduate work or be put into action in the service of real-world problem solving;
compare methodologies across the disciplines represented in their classroom work;
create a final meal that integrates experiential learning activities with classroom knowledge and use twenty-first-century research and communication tools to present a menu and explain the decisions that informed it.
Course Materials
Course readings will be made available online.