Cross-cultural Community Engagement in Italy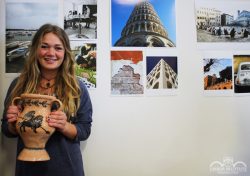 Yesterday, Spring 2016 Umbra students celebrated their achievements as the end of their study abroad experience in Perugia, Italy approaches. Students came together to share their semester experiences with the Umbra community through Community Engagement Presentations and Events, such as: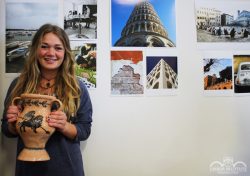 The Photography and Ceramics Art Show
The day began with an Art Show that presented a lovely display of semester experiences, throughout Europe, all captured by ARPH 210 Introduction to Photography students. Photographers shared amazing shots of locations such as Budapest, Pisa, and Perugia; of perspectives and candid moments otherwise lost in time.
Those who took part in the ARCW 350: Introduction to Ceramics course shared their talents through the construction of many vases, oil lamps, and other clay creations. Throughout the semester, students learned about different periods of history and their relation to ceramics in order to acquire inspiration for their art. For example, one assignment was to research the significance of Etruscan Sarcophagi before creating a miniature version of their own.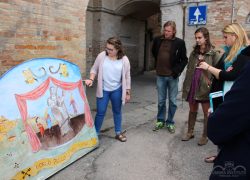 Fresco Painting Presentation
Later that morning, community members made their way to the terrace on Via del Cortone, in Borgo Bello, to view the fresco painted by ARFP 210: Fresco Painting students. Devan Smith-Brown represented her class as she shared the significance of the three layers of a fresco piece, the arriccio, sandcoat, and intonaco layers. She also shared the complexities of fresco painting, how it needs to be painted one section at a time through a series of "giornata", a day's work. Those who attended the fresco presentation were then able to step out on the terrace and witness the breathtaking panoramic view that is featured in this semester's fresco.
Click here to read more about this semester's fresco project.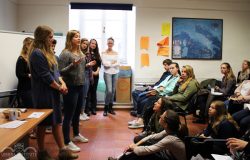 Community Engagement Presentations
During the afternoon, students who participated in community-based courses or service-learning projects throughout their semester abroad were able to share their research and newly acquired knowledge through a series of presentations. Representatives from sixteen courses provided 15 minute presentations about everything from the influence of fascism on architecture to critical disabilities studies, and the marketing of Italian organic wineries.
At the end of the Community Engagement Presentations, those who attended were able to vote for the presentation that was the most informative and professional. Students from the Education in Italy Seminar and Practicum won the Best Presentation Award for their presentation on what they learned through their combined experiences teaching the English language and American culture to Italian youth.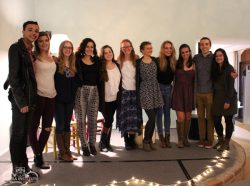 Creative Writing Public Readings
After the multiple student-run Creative Works Nights that were organized during the last few months, it is safe to say that Umbra students were greatly looking forward to this event! Those who participated in LIIT 420: Il Racconto Italiano, ISLI 330: A Taste for Knowledge, and CWIT 340: Italian Tales and Stories were able to share their creative writing work from this semester. Readings included Il decollo by John Cortese, Deep Red Wine, by Anna Schwartzstein, Faces of Time, by Sophie Panetti, and many other riveting works of word art.
Click here to read more about Umbra's Community Engagement initiatives.