The Dark Side of Chocolate – Interns Hold Documentary Screening
Interns in INIT 350: Fair Trade at the Umbra Institute traveled to the Monimbo Fair Trade Cooperative in Foligno to learn the secrets of Fair Trade chocolate. Students were led through a  mouth-watering chocolate tasting that featured the use of all five se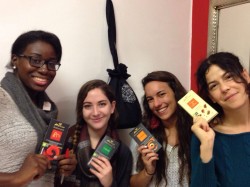 nses in order to appreciate the subtle properties of this sweet. Students learned how to differentiate Fair Trade chocolate from highly commercialized products and explain these contrasts to others.
On Monday, the interns put their skills to the test and brought issues of Fair Trade to the larger Umbra community with a documentary screening. A stormy night did not deter almost thirty Umbra students from showing up to view "The Dark Side of Chocolate," a poignant film highlighting the problems related to child labor and trafficking in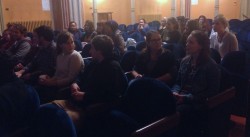 the chocolate industry. After the viewing, the interns conducted an audience discussion related to the effects of the film on the industry and audience members' personal thoughts and reactions. Later, they capped off a sweet night by leading their very own chocolate tasting for the hungry students. Audience members had the opportunity to sample three different chocolates from Monimbo.  It was difficult to reach a consensus on a favorite, but the dark chocolate with a hint of mint seemed to have won. Students left with a broadened perspective on a favorite treat and a new understanding of the complexities that come with bringing chocolate products to market all over the world.