Expats Share Fourth of July with Barbecue
Whether away from the United States for six weeks or sixty years, American expatriates feel a twinge on Independence Day. This year, Umbra Intensive Italian students celebrated the Fourth of July with an American-style barbecue, which morphed into a language exchange when local Italian students joined in the star-spangled, hamburger-grilling festivities. 
"It was the most popular Tandem language exchange of the summer semester," said Student Services staff member Marco Bagli, who estimated that 50 people attended the barbecue at the campus of Onaosi, an Italian university.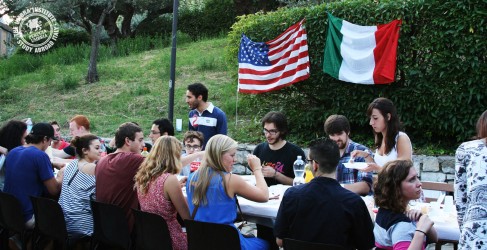 The Umbra Institute never misses the chance to celebrate the U.S. national holiday, even if the majority of its summer students — temporary expatriates — will be back in their home country within the month. Americans can assuage any flashes of homesickness by sharing their cultural traditions with their Italian guests — while practicing their Italian.