Fair Trade Interns Volunteer at Film Festival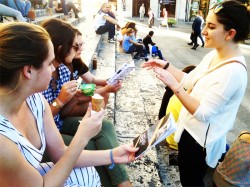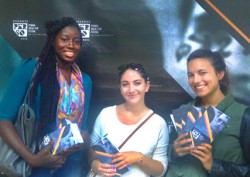 Recently, Umbra's INIT 350: Academic Seminar and Internship in Fair Trade interns volunteered at the PerSo Film Festival in the city center. This event, situated in several cinemas in Perugia, featured films that center around social justice issues. The students helped with set-up and advertising (which included distributing fliers in the center) and supported other volunteers and staff throughout the event.
The Fair Trade Internship is designed to give study abroad students in Italy the opportunity to see different communities from a comparative, global standpoint while understanding the principles surrounding Fair Trade. Along with volunteering at Monimbò, a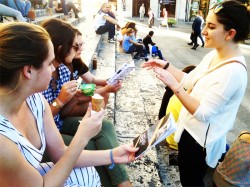 nonprofit cooperative with two shops in Umbria, students help out with various special events throughout the semester. This course connects theory and practice in a way that is meaningful not only for the students studying abroad, but is reciprocal for the local community. Stay tuned for more about their involvement in Altrocioccolato, a Fair Trade chocolate festival happening this weekend!