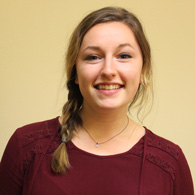 Leah Crawford
Clark University
Spring 17 Ambassador
Email:leah.crawford3@gmail.com
Ciao! My name is Leah. I go to Clark University in Massachusetts and was lucky enough to have spent a spring semester studying in Perugia. The classes at Umbra are special because you get to practice what you learn. I took an education class and got to teach at Italian high schools. If you take a business class, you work with a local business. Umbra pushes students to take the skills they learn in the classroom and apply them to real life experiences. Not only have I learned about history, education, and psychology but I also gained skills that will be useful for my life after college.