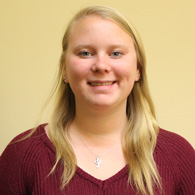 Sarah Johnson
Lebanon Valley College
Spring 17 Rep
Email: [email protected]
I study Art and Art History at Lebanon Valley College, and I could not have chosen a more perfect country or city to continue learning in the field. Throughout my time at Umbra and in Italy, I have engaged in the community with my Museum Studies class, traveled throughout Italy with class trips and on my own, and met some amazing people and saw incredible places along the way. I was immensely hesitant to study abroad, but I could not be more thankful for the opportunities I have had here; opportunities that I probably would not have ever had without Umbra. As an UmbrAmbassador, I want to provide others with the knowledge and encouragement to study abroad.