Food Studies Program Alum Shines—And Eats!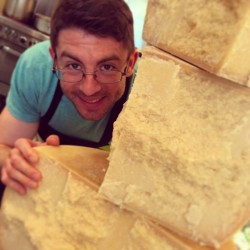 Brad Jones—accomplished food activist, academic and author—can trace his passion for food directly back to the History of Food and Culture in Italy course he took at Umbra Institute. Brad arrived in Perugia dead set on a career in the legal profession but he returned to Indiana with a very different set of goals. He had been convinced that food was not only good to eat, it was good to think.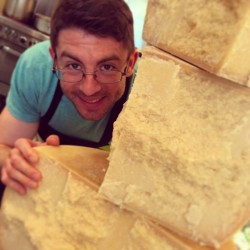 "My semester in Perugia had an enormous impact on the shape of my academic studies and my career," Brad says, "The opportunity to bring together practical and theoretical aspects of food in the extraordinary setting of central Italy, with insightful classroom lectures complimented by field excursions working with cheesemakers, bakers, organic farmers, and others, has been truly invaluable. I wouldn't be where I am today without it."
That impact is easy to see. Brad returned from Perugia and spent the rest of his time as an undergraduate at Wabash College thinking, reading, and writing about food. "I basically wrote about food in every class that would let me," he says. "I developed my own independent study on the history of food and culture in America that very closely resembled the Umbra course. I wrote my senior history thesis on the topic of Italian food nationalism through time and space. It really is amazing how deeply threaded food is in the fabric of culture. It's at once quotidian and infinitely complex. It fascinates me to this day, how much using food as an academic lens allows you to see."
Since graduating in the spring of 2010, Brad has built a rather impressive, and extraordinarily diverse, résumé working with food. He has volunteered on organic farms throughout Italy. He has managed the cheese counter and taught taste education classes at one of best independent specialty grocers in America. He helped found a start-up company that taught cheese and beer education classes in Boston.
In 2013, Brad spent the summer travelling across America. In a twenty-foot passenger van, with the backseats gutted and a make-shift army cot installed, he journeyed 15,000 miles interviewing and working with nearly 80 artisan food producers— from brewers to bakers, shrimpers to cidermakers. Equipped with a video camera, a tape recorder, and fundraised money, he and colleague produced a documentary of the changing face of American agriculture and the emerging landscape of alternative food production.
Brad also earned a Masters degree from the renowned program in Gastronomy at Boston University. While a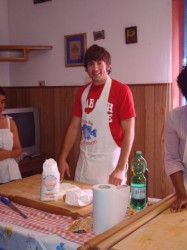 graduate student, he founded the first peer-reviewed graduate journal devoted to the study of food—a publication that has in short order been highly lauded across the academic community. (In an "it's a small world after all" turn of events, Brad actually passed the reins of the journal over to one of our very own, Umbra Institute's Assistant Director of the Food Studies program Zach Nowak, who Brad suggests has for years—ever since explaining that fermentation was a result of "yeast farts" —been a close mentor and friend.)
These days, Brad's career has come full circle. He combines his love of specialty cheese, his enthusiasm for thinking critically about food, and his passion to make a difference by directing the efforts of the Cheese of Choice Coalition, an international non-profit advocacy group that promotes awareness and appreciation of traditional food. When he's not saving the world one cheese at a time, Brad splits his energies serving on the board of directors of Boston's Slow Food chapter, writing a book about his documentary roadtrip, and seeking out the best food produced by local artisans.
If, as WB Yeats once said, "education is not the filling of a pail, but the lighting of a fire" then Brad Jones' fire burns bright. Kindled from a passion sparked in a classroom in Perugia.