A Fresco View from Borgo Bello, Perugia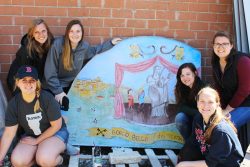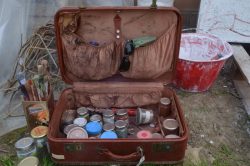 Materials used for Fresco Painting – photo by Laura Kastner
Each semester, Umbra students enroll in ARFP 210: Fresco Painting, a course taught by Professor William Pettit, that focuses on the material procedures of fresco art as well as its historical context; thus combining art history and studio art within a context of ancient and modern fresco techniques.
In the past, fresco students would spend their semester designing a fresco for the Institute's designated fresco room. However, in recent semesters, the fresco class has begun to bring their art into the Perugian community as a way of giving back to a city that they feel has given so much to them. Last fall, the class brought vibrant colors to the local Fontenuovo residence for the elderly. This spring, students designed a fresco for a city revival project, in collaboration with Umbra's Placemaking students, in the city's Borgo Bello district.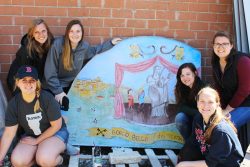 This project, directed toward the beautification of Borgo Bello, is currently focusing on the terrace on Via del Cortone that rests within the theater district of Borgo Bello, and therefore, locals requested that the fresco depict theatrical art. Fresco student, Devan Smith-Brown, explained that her class complied with this request with a design that shows Thalia, the goddess of theater, in center stage, surrounded by other mythical actors. The masks above depict the emotions of theater as a performance takes place in front of the terrace view of Perugia. The keys of Saint Peter decorate the bottom of the piece along a yellow ribbon; these symbols represent the golden fields of wheat that used to rest outside the gate of Borgo Bello, along the road that even now leads to Rome and the Vatican.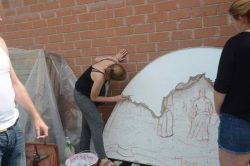 As the project concludes, fresco students share their experiences in anticipation of next week's art show and Placemaking & Fresco Terrace Project Presentation. "It was actually really cool to learn because there are frescos everywhere and I can now recognize the technical side," shared Laura Kastner. "I have definitely gained a much deeper appreciation for art and it is so cool that we will have our fresco hanging for years and years to come," added Lindsay Egbers.
Click here to read more about Umbra's Fresco Painting Course.