Food & Sustainability
Umbra Blog
Umbra Reps
Lessons from Orti Dipinti: Could this be Orto Sole's Future?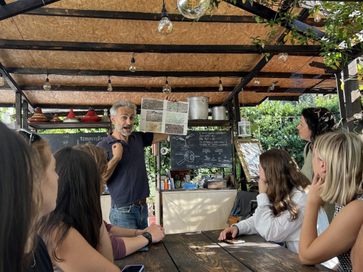 By Haley Benbow, Harvard University
A 6:35 AM meeting time pulled the students of the Green Cities class out of bed bright and early last Friday morning. We had a train to catch. We were heading to Florence to visit Orti Dipinti, an urban garden in the middle of the city, to get a glimpse of what a community garden could become.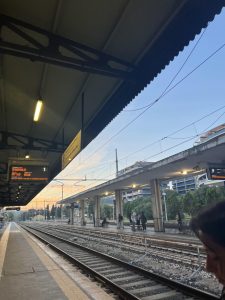 First, some background: one of the goals of the Green Cities class is to work in Umbra's community garden, Orto Sole. The garden is located just outside the historic Piazza IV Novembre, so there is a lot of potential for it to be a well-used green space right by the city center. As a class, we are hoping to propose projects to help the garden reach its potential as a vibrant and flourishing space for both Umbra students and citizens of Perugia. A trip to a place like Orti Dipinti, which is already well established, was very helpful in bringing back ideas and for getting inspiration as to what direction we should begin guiding Orto Sole.
The Mission of Orti Dipinti
Not just a garden, Orti Dipinti fills an important role as an educational space in Florence. The project practices urban organic horticulture and communicates how it can be applied to daily life. It has the goal of teaching people about nutrition, sustainability, new practices in agriculture, and environmental awareness. It promotes a collaborative economy and cooperation among all its stakeholders: citizens, children, students, professionals, tourists, and local farmers. More than that, it serves as a place for people to come together in a passionate and inspired way to work toward achieving greater sustainability and creating a reciprocal relationship with nature.
We were able to hear from Giacomo Salizzoni, the garden's director, who showed us around and told us about the inspiring history and mission of Orti Dipinti. The visit was certainly that: inspiring. We left Orti Dipinti with camera rolls full of photos, long lists of ideas to bring back, and even our own personal blends of herbal tea from the extensive collection of herbs on site. The work that's been done in Orti Dipinti over the years has taken the space from an old running track to an urban oasis complete with worm towers, a composting toilet, a zen garden, and plenty of seating for people to gather and relax.
Some of my Takeaways
One of my favorite parts of our visit was listening to Giacomo speak about Orti Dipinti. We spent the first portion of our visit sitting under a plant-covered trellis in the garden's educational space, while the second half was spent walking around while Giacomo explained all the garden's different features. The knowledge that he had about all of the plants and other projects was very impressive; it's clear that he has dedicated a lot of time to making it the lush and thriving space that it is today. This passion that Giacomo makes all the difference in Orti Dipinti; in looking at Orto Sole in this regard, I would love to see that same type of passion for a space fostered in the community of Perugia and in Umbra students.
I also loved the interactiveness of Orti Dipinti. As we took our tour, Giacomo encouraged us to touch, smell, and even taste as many herbs and edible plants as we wanted. It was so cool to experience a garden in this way; I tried herbs that I didn't even know existed (ever heard of banana mint?). At the end, Giacomo handed us all tea bags to fill with our favorites so that we could take them home, dry them, and brew our own teas.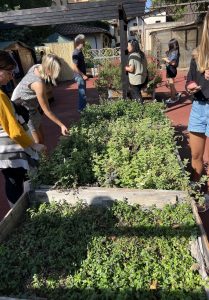 The interactive nature of our visit is also reflected in the way that Orti Dipinti works with its volunteers and the reciprocal nature of that relationship. When describing this aspect of community engagement, Giacomo told stories about how people come to him and ask if they can have a box in the garden to care for on their own. To this he replies, "No, you can't have one box, but you can have the whole garden." This ideology of working for the good of the whole rather than for the good of the individual is commendable, and something that I hope will be embedded into the culture of Orto Sole as well.
After having a takeaway lunch from "I Ragazzi del Sipario", a social cooperative with the goal of employing and empowering people with intellectual disabilities through restaurant work, walking around a rose garden, and spending time wandering through the streets of Florence, we took the train back to Perugia. I was exhausted from the long day, but left feeling excited about all that we saw. It felt like the inspiration that we needed to begin working on our Green Cities class project in Orto Sole.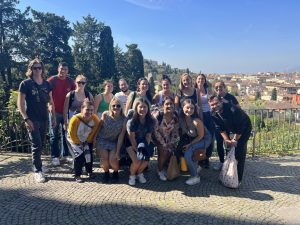 As for Orto Sole, we are at a cornerstone in its evolution; the projects we choose to embark on matter, and will continue to matter, for years to come. Needless to say, it's an exciting time to be involved and to be a student in the Green Cities class. Like all good things, it will take time and effort, but I believe that Orto Sole can become a thriving source of knowledge and a vibrant space for the people of Perugia and Umbra students in a similar, Orti Dipinti-esque way.
To learn more about Orti Dipinti, or even look into visiting it yourself, you can check out their website here: http://www.ortidipinti.it/en/