Featured Blog Articles
Umbra Blog
Local Traditions in Siena: Il Palio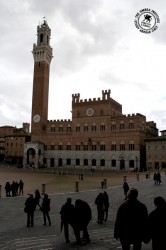 While studying abroad, Umbra students have a multitude of opportunities to learn first-hand about the customs and traditions of Italy. To add historical context to some of these experiences, students enrolled in Umbra course SOIT 360: Contemporary Italy, Culture, Society, and Trends gain deeper insight into Italian culture by exploring events, trends and social phenomena.
Siena's Palio is one such tradition studied in class. Il Palio, medieval in origins, is a bareback horse race that takes place twice yearly in Siena's central piazza, Piazza del Campo. Participating riders represent 10 of Siena's 17 contrade, or neighborhoods, each jockey wearing the colors of their contrada. While this event occurs only on July 2nd and August 16th, preparations last all year, and include discussion of strategies, commitments by jockeys, and the commissioning of the silk banner that will go to the winning contrada. It must follow specific iconography: a Madonna, the insignia of the city, and the colors or symbols of the participating contrade. During the week leading up to the event a lottery is held to determine the horse that will run for each contrada, preparations are made in the Piazza del Campo – including an addition of a layer of dirt to form the race track – and blessing of the horses and jockeys are held. After months of preparations and pageantry, the Palio begins- three laps around the piazza, typically lasting under 90 seconds.
While Contemporary Italy students won't have an opportunity to witness the Palio during their semester with Umbra, they did have the chance to visit Siena earlier this month and see where it all takes place, including a rare, private tour of one of Siena's historic contrade, L'Aquila, or the Eagle. Established in the Middle Ages to supply military troops to the city, the contrade have become the embodiments of local patriotism and civic pride. Each contains their own baptismal font, museum, and fountain, and additionally has allies and adversaries amongst the other contrade.
Visiting the Aquila museum, students were surrounded by yellow, trimmed with blue and black (the contrada colors) and representations of a double-headed black eagle holding a sword, orb and scepter. These displays of local pride included the silk banners that the Aquila contrada won through their 24 official victories, the oldest of which dates to 1719 and is also the oldest surviving banner of Siena. After walking its cobbled streets and speaking to local Sienese, Umbra's students left with a deeper understanding and appreciation of the impact that the contrade and Palio have on the daily lives and traditions of Siena.