Oprah Winfrey Hunts Truffles in Umbria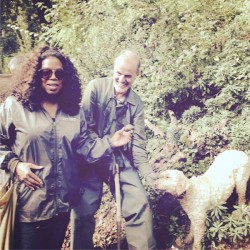 What do you get the woman who has everything? A truffle hunt in Umbria!
This past weekend, Oprah Winfrey visited the Relais Todini winery in Perugia for a truffle hunt with best friend Gayle King and King's daughter Kirby Bumpus. Oprah acknowledged that although she didn't have a "bucket list," it had been her dream for years to scout out truffles in the gorgeous Umbrian countryside. Truffles are a mainstay of her "O" magazine's recipes and even featured on her "Favorite Things" episode in December 2012!
We're happy to report that Oprah finally got to conquer one of the few areas in which she has not already succeeded: her group found a mix of both black and white truffles with help from a team of four farmers and five trained dogs. See you next time you're in Perugia, O!
More info here.
.