Official Launch of the "repEAT Box Project" in Perugia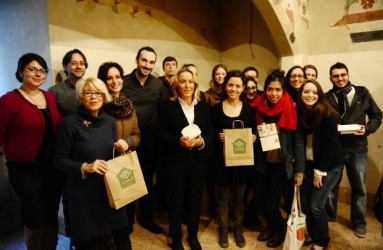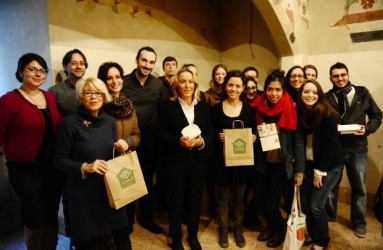 The "repEAT Box Project" has officially launched in Perugia! Students enrolled in the STFS 330: Sustainability and Food Production in Italy class continued the work started by the Fall 2013 class by delivering take-home boxes, bags, and informational materials to three restaurants in Perugia.
The project is focused on educating the community about food waste and providing a way for restaurant patrons to take their leftovers home. Unlike the United States, take-home boxes are not common in Italian culture; this project has afforded the students a cross-cultural view of sustainability, along with a way to bring part of their own culture to Italy. "Food is both a public and a private world. With this project, we examine the private behavior of food culture and practices, and make comparisons with practices in the United States and Italy" explains Professor Ascione, coordinator of the Food Studies Program.
 The project recently made another milestone on January 25th when the students, Umbra faculty and staff, and owner of participating restaurant Pachamama, held a press conference with Perugia's local governing body "Il Comune di Perugia" and the Vice-Mayor of Perugia. Three newspapers across Umbria, Il Messaggero, Umbria 24, and Tutto Oggi, published articles about the details of the project.  
The conference was organized in order to bring awareness of the project's overall goal of reducing food waste in the historic center. The repEAT project has been enthusiastically embraced by the Comune as it coincides perfectly with a European initiative for 2025 to reduce food waste by 50%.