Organizational Behavior Student Gets Internship in Learning and Organizational Development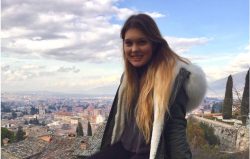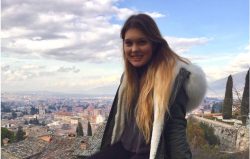 Kyndal Burdin (Psychology Major at Hamilton College) was an Umbra student during the Spring 2017 study abroad semester, and currently has an internship in Learning and Organizational Development. Umbra staff recently got in touch with Kyndal to find out how her experience at the Umbra Institute influenced her professional development.
During her time at Umbra, Kyndal was enrolled in Prof. John Dennis' course on Organizational Behavior Psychology. Kyndal feels that her time in this course helped her prepare for her current position. "In the class, I learned about the business world in regard to leadership, organizational intercommunication, leader and employee relationships, and decision making," shared Kyndal, describing how the class' community engagement project worked with three separate companies. "The project required a lot of communication, collaboration, and organization, while offering challenges that pushed my normal way of thinking and working."
Through the course in organizational behavior, and Simon Sinek's Start with Why (a required text for the course), Kyndal learned that being a leader means more than directing a group or project, it means being able to diagnose problems, communicate clearly, and make effective decisions that will motivate and influence others to effectively drive organizational change within a diverse environment. Kyndal reflected on what she learned about leadership through a blog post that she contributed to the Umbra Voice, Umbra's student blog.
"I have only been working for a few weeks now, but I am creating short written pieces about articles in order to communicate with people within and outside of my department, assisting in leadership development projects, and looking forward to whatever else my boss has in store for me," concluded Kyndal.
Click here to learn more about PYBS 460: Organizational Behavior: An Evidence-Based Approach.