Perugia Becomes More Connected for Easy Travel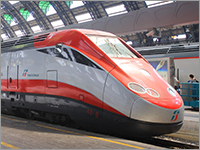 At a presentation in Perugia earlier this week, Mayor Romizi announced that 2018 would be the year that fast trains (frecciarossa) make their way to Perugia! Starting in February, the trains will depart from Perugia every morning and stop in Florence, Bologna, Turin, and Milan; they will return each evening making day trips to the listed cities easier and faster than ever! Click here for more information about travel times. 
Incoming students should also know that Perugia's airport has added new flights to places like Bucarest, Romania (WizzAir); Frankfurt, Germany (RyanAir); and Tirana, Albania (Alba Wings)! 
While life in Perugia has always allowed for easy trips to places like Spoleto, Assisi, Rome, and Florence (or flights to London and Brussels), the city is becoming ever-more international with its constant influx of students from around the globe. Spring 2018 students should mark their calendars for Umbra's travel workshop on January 10 to learn more about how to get around Europe.