Reflections: Critically Analyzing Disabilities and Inclusion in Italy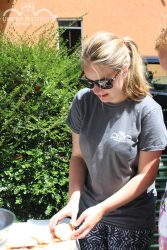 A practicum student getting hands-on experience in the Orto Sinergico
"Our experience here will be something that we never forget and we are truly grateful for this opportunity," wrote Abigail Kayes and Caroline Florenzo in a reflective letter to Fontenuovo, a local residency for the elderly that recently celebrated its 130th year. Abigail and Caroline are just two of Misericordia University's Occupational Therapy students who spent the early part of their summer participating in the Umbra Institute's CESP 354: Critical Disabilities: Seminar & Practicum, in Perugia, Italy.
 Umbra's Critical Disabilities Seminar & Practicum is designed to foster awareness of the experiences of disabled people and reflect on inclusion of these individuals in society by assuming a critical perspective. During the seminar portion of the course, students examine disabilities from a culturally diverse perspective in a classroom setting. As a compliment to the seminar, the practicum gives students hands-on experience in assisting those with disabilities in a community-centered environment. This summer, such collaboration was made possible with the aid of partnerships with VIVA Sports Association, Fontenuovo Elderly Residence Home, and Nuova Dimensione di Perugia Cooperative Synergistic Garden.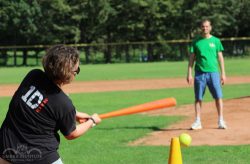 While working at VIVA, students experienced what it means to take part in an athletic program designed to teach people with motor and/or intellectual disabilities various teambuilding sports and games with the goal of integrating them into society. They all agreed that, at first, the experience was intimidating as it was unique and new. However, by the end of their experience, they recognized how VIVA participants are attentive to rules and structure. Students felt that this was phenomenal and, in their words of wisdom reflection for future VIVA practicum students, wrote, "Enjoy every opportunity you have to communicate and you'll appreciate the relationships you've built."
 "At the garden, it was cool that we got to work alongside the guests and that they were so willing to help us," shared Micaela in her reflection about time working in a local Synergistic Garden. "It is great that the garden is used as a tool to improve their social skills and quality of life. I enjoyed their positive attitudes towards helping us." In a comment on the language barrier confronted while working in Perugia, Rebecca Price said, "We learned to communicate even though we weren't always speaking with one another directly using the same language. This is something that I will take with me as I become a professional and work with people of all types." In line with Rebecca's reflections, Melissa Galloway expressed that, though she could not speak Italian efficiently, her experience in the garden would "help [her] in the future when working with nonverbal patients or patients with problems expressing themselves."
The Umbra Institute is excited about the enthusiasm of CESP 351: Critical Disabilities: Seminar & Practicum students and it looks forward to further expanding the program.