SoloItaliano: A Paragon of Immersion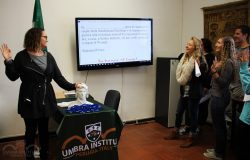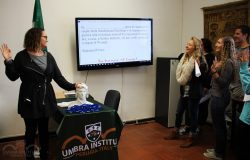 Students take an oath to speak only in Italian for two days.
This week's SoloItaliano Challenge pushed 72 students out of their comfort zone and into full linguistic immersion. This voluntary initiative began with eager participants swearing a solemn oath to speak only in Italian – even outside of the classroom – for two days. Participants were given a blue bracelet to wear as a reminder of their pledge and to inform other students, staff, and professors of their participation.
As the challenge begins, it is normal for students to feel nervous and to struggle with sentence structure and vocabulary acquisition. However, by the end of the second day of the challenge, students were more motivated than ever to continue speaking Italian. They realized that part of immersion and language acquisition is making mistakes in your everyday speech, and that everyone makes mistakes when speaking a new language, no matter their level of study. An anonymous student added, "I learned that learning a language is the best way to immerse yourself in a culture and you learn more when you put yourself outside of your comfort zone."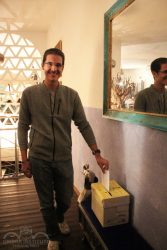 During the Tandem event at the end of the challenge, students were asked to anonymously vote for who they thought had shown the most valiant effort during the challenge. The winners were Lynn Diorio (Italian 110: Intensive Elementary Italian) in first place, and Sinarely Minchala (Italian 310: Advanced Italian) in second place, both students from Arcadia University.
Lynn commented, "It's not always easy, but sometimes you just need to try new things, especially when you don't think you can."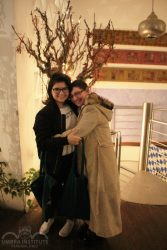 Sinarely added, "SoloItaliano was such a fun and exciting experience, but also a very helpful one! It helped me to realize what I do know and what I still need to work on, while also giving me the opportunity to interact with other participants in a way I haven't been able to before."
The Umbra Institute looks forward to continue pushing limits with the SoloItaliano Challenge during future semesters.
Click here to learn more about Italian Language and Culture Studies at the Umbra Institute.