Spring 2017's SoloItaliano Challenge: "Finding your way around words"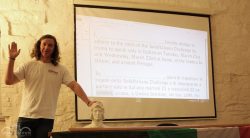 Can you imagine speaking only in a foreign language for two days? That is exactly what 80% of the courageous Umbra student body did this week. These students voluntarily participated in the SoloItaliano Challenge, a linguistic immersion initiative offered at the mid-point of each semester to encourage students to use their ever-improving Italian language skills.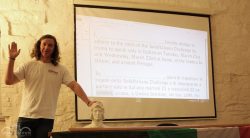 Participants took this solemn oath on Tuesday morning, swearing in front of peers, professors, and Dante's imposing bust, and then they donned their SoloItaliano bracelets. That night, Umbra offered a chance for the American students and their Italian peers to mingle at a screening of the Italian film, Perfetti Sconosciuti.
 
The challenge culminated at an Umbra Tandem on Wednesday night, where participants voted anonymously for the winners, those students who participated most honorably and to the best of their ability. Helen Perham (Clark University) and Rachel Tchen (Trinity University), both beginner students in intensive Italian courses, were given this honor.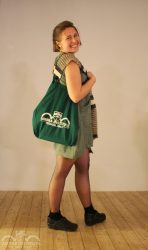 "Although I was nervous to not be able to just talk to my friends, and there were a lot of silences, I found that I knew more words than I thought I did," Helen (Italian 110) stated.  According to her, the best part of the challenge was the knowledge that she could have a conversation in Italian, even if she wasn't perfect.
Rachel (Italian 110) commented, " The most interesting part was trying to describe the word I was looking for in Italian, even if I didn't have a translation app available; finding ways around words." Both winners and other participants discussed their initial anxiety and the boost of confidence they felt as the challenge continued. Though the challenge has concluded, this confidence may carry on for the rest of their time abroad!
The SoloItaliano Challenge is a prime example of Umbra's commitment to education through extra- and co-curricular activities that promote immersion and community engagement. To learn more about Umbra's many academic programs and initiatives, Click Here!