Featured Blog Articles
Umbra Blog
Students Meet Perugia via Nooks and Crannies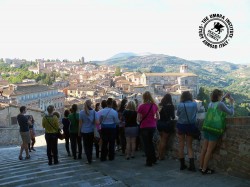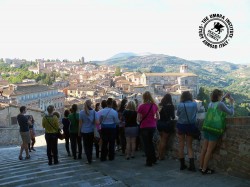 Sunday, the sunniest day Perugia had seen in weeks, coincided with the Festa della Repubblica, a national holiday celebrating Italy's transformation into a republic after World War II — and the world-famous Nooks and Crannies tour.
A group of 30 students followed staff member Addy past the festivities and through winding, medieval alleyways to the spectacular panoramas of Perugia. Among their stops were the old orphanage, a piazza described in Dante's Divine Comedy, and the giant, age-old Etruscan arch. Along the way, they learned why local bread tastes terrible (no salt), how French author Alexander Dumas spent the night on Corso Vannucci, and where people were hung in cages (no exaggeration). 
The tour ended in Piazza IV Novembre, where hundreds of elementary school students had already started to perform songs honoring well-known primatologist Jane Goodall's visit to Perugia.