Featured Blog Articles
Umbra Blog
Students Present a Semester's Work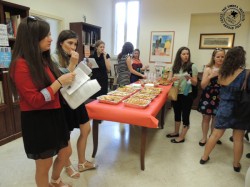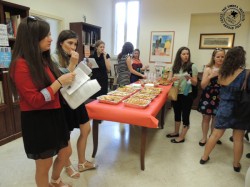 From frescoes spanning walls to internship projects, students presented their labors of the past semester at today's Special Academic Events. 
The day began with coffee and croissants for the Fresco and Photography Art Show at Umbra's Via dei Priori building. One room's walls were decked out in authentic frescoes that Professor Bill Pettit's students have worked on all semester; the next was decorated with stunning photographs taken around Europe by students in Professor Philippa Stannard's Digital Photography course.
This afternoon, the Umbra library buzzed with faculty, staff, and students as they enjoyed sandwiches and fruit and discussed the Community Engagement presentations. All students who participated in the
internships presented projects in classrooms two and three, describing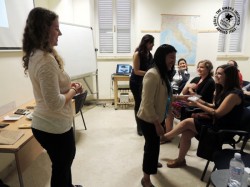 what they learned throughout the semester and how their work related to the community engagement mission. The turnout was impressive. The majority of the student body, faculty members, and staff showed up to support their peers. 
Finally, the Umbrans convened at the local restaurant Cactus Cafe to hear students from Professor Antonella Valoroso's Creative Writing class read aloud their works of creative nonfiction after studying American and Italian writers. With a taste of home — the Cactus Cafe caters after the American Southwest — the audience was captivated by the voices of Umbra students.