What is it Like to Study Abroad during a U.S. Election?

What is it like to study abroad during a U.S. election? This is a question we asked our students this week as the pending 2016 election inspires a great deal of discussion overseas. Every election cycle is considered to be "the most important of its time", especially for first time voters. Here is some feedback from our students about how they feel about the impending election: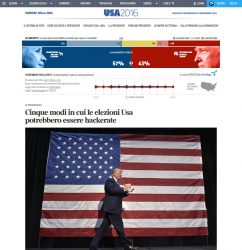 A number of students shared that, no matter where they travel to (Croatia, Ireland, Scotland, Spain, Hungary, locations in Italy), people ask about the U.S. election. "The elections seem to matter so much to these countries. As soon as I say I am American, they want to know who I'm voting for," said Hannah Norwood (Wake Forest University), as she described a conversation with a Scottish taxi driver that she had met, "They see it as a two party system and don't understand how anyone can be in between." Hannah also shared that Italian newspapers seem to always have American election news in the headlines as she passes the newsstand on her way home from class every day.
Sometimes it is difficult to explain the American electoral system, especially since some rules vary from one State to another. Lynn Diorio (Arcadia University) said that Italians have engaged her in numerous conversations not only about presidential candidates, but about the election process itself, "Everyone asks so many questions. They seem to think that if you are from the U.S., you must have answers but, sometimes, I feel as confused as everyone else over here."
"It's interesting to see that not all students follow the elections," shared Paul Zink (University of Denver). "At Tandem, Italians want to know what's going on in the U.S. and it was cool to be able to explain things since I try to keep up to date on new information using reliable sources from back home.  
"I have to stay up late to watch all of the debates, since I watch them live," contributed Bridget Lavender (Davidson College). "It is such an unpredictable election." She then shared that she was President of College Democrats on her home campus and has been using that experience to help her roommates in Perugia register to vote and send in their absentee ballots.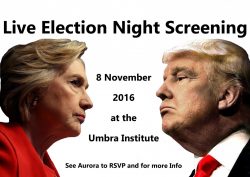 Europeans are not only commenting on American candidates, some are taking the chance for political discussion to share their country's political climate with curious students. Bridget shared that she went to a wine tasting last week, in Perugia, where she met a few couples from the U.K.. "They compared the Brexit to our election," explained Bridget, who is always eager to discuss political perspectives.
Umbra has worked hard to make sure that all interested students were able to cast their vote using an absentee ballot. Now, the staff will be hosting an Election Night Screening to allow students to come together and watch the election results roll in.