Study Abroad in Italy: Where Journalism Meets Food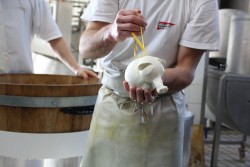 Students from Umbra's ANFS 370: Anthropology of Food course, in collaboration with SapereFood, a locally run magazine with a focus on Umbrian agriculture, explored the world of Food Journalism as they visited local cheese and wine producers this semester. The overall goal of the course is to approach cultural differences, in their relevance to food, as a method of understanding personal and intercultural identities.
Read what the students had to say about their experiences by following the links below:
Real Italian Cheese: A Look at Fattoria Montelupo and Caseificio Brocatelli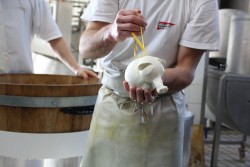 "Forget the industrial model, eliminate distance: here everything happens in front of your eyes," shares Elena Serafini, as she describes Fattoria Montelupo in her article about the cheese production process and the difference between an industrial and an artisan product.  
Gina Cassara, on the other hand, shared her impression of Caseificio Broccatelli in Assisi where she observed a mix of tradition and modernity that had been started by now 92-year-old Enrico Gambini upon his return from fighting in World War II. In her article, as she describes her visit, she shares that viewing the Caseificio makes it "clear just how important this business and its traditions are".
"The contrasting environments of these two factories play a huge role in their respective commercial-feels," adds Sara Balte in her article that compares and contrasts both cheese producers and their approach/culture. She then continues to comment on the value of tradition and present questions and analysis of the futures of both producers.
Of Wine and Patience: Inside the Carapace Tenuta Castelbuono and Fongoli Wineries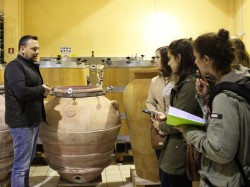 "Not only will your eyes be greeted with contemporary sculptures lining the green hillsides, but your taste buds will also be invigorated with the quality of the wine," noted Megan Davidow in her article about the vineyard and wine production process at Carapace Tenuta Castelbuono which highlights the winery's knowledge, experience, and passion.
When it came to the Fongoli Winery, Chapin Graham wrote her article with a focus on sustainability, quality, and that which is Made in Umbria. "Angelo [the 4th generation owner] says that more work in the vineyard and less work in the cellar leads to a better and more authentic wine," adds Chapin as an introduction to the values found in each bottle of Fongoli Wine.
Click here to read more about Umbra's Food & Sustainability Studies Program and Community Engagement initiatives.