Study Abroad Welcome Weekend at Umbra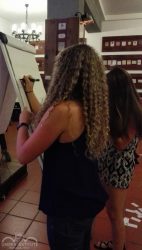 Students learn Italian vocabulary and customs through ice-breaker activities.
This weekend, Umbra Staff eagerly awaited Fall 2016 students at Rome's Fiumicino Airport as they arrived for their study abroad semester in Perugia, Italy. The welcome weekend at Umbra is one of excitement and acclimation!
Friday: Students were brought from the airport to the Hotel Giò by private bus where they met more Umbra staff, got their orientation packets, and met their roommates. They then sat down to enjoy a multi-course dinner followed by ice-breaker activities designed to help them get to know each other; learn  basic Italian vocabulary and customs; and share their expectations for the semester. John LaTorre, from the University of Vermont, said, "It was fun and a great way to meet everyone and break the ice".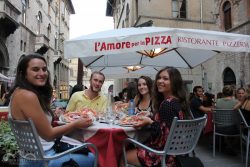 Saturday: Students were transported from the hotel to their new apartments in Perugia's center where they quickly fell in love with the picturesque hilltop town. When asked about how she was settling into her new home, Eliana Zupcich, of Hamilton College, shared, "I love the fact that I look out my window and see this vibrant and beautiful city and, I'm not sure how you guys did this, but my roommates and I already have a really strong connection!"
Umbra staff spent the afternoon showing students around the Institute and Perugia; staff were also available to help students with the process of applying for their Permit of Stay (an Italian document required for staying in Italy for more than 3 months). In the evening, students enjoyed their first Umbra-sponsored Pizza Night.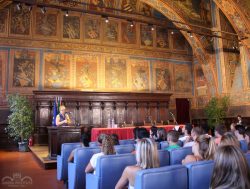 Sunday: After an open house and practical walking tour of Perugia, students met for a Mandatory Safety and Academic Meeting. They heard many safety tips and became familiar with Italian laws and best practices while sitting in the historic Sala dei Notari. In addition, they learned about student life, housing, health, counseling services, academic policies and procedures, and became better acquainted with Umbra staff.
Monday: Intensive Italian Week began for all Umbra students. Students will visit supermarkets, apartments, coffee shops, and take public transportation with their professors in order to learn how to get around Perugia and Italy, in Italian. Students also took part in the Community Engagement and Student Activity Information Session to learn more about how they can get involved in the Umbra community through practica, service learning projects, student clubs, and volunteer opportunities.
Students will be introduced to their professors and regular elective courses beginning on Monday, September 5th.