SUMMER 2016: Welcome Weekend at the Umbra Institute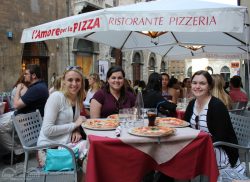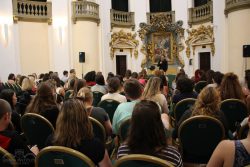 The Mandatory Safety and Academic Info Meeting
This summer's study abroad semester has kicked off to an exciting start here at the Umbra Institute!
Saturday: Umbra staff members waited eagerly at Rome's Fiumicino airport for General Studies and Intensive Italian through Culture students to arrive. Students were then brought by private bus to a hotel just outside of Perugia, where they were welcomed with dinner and an evening of games, with a side of tea and cookies. Those who took part in the games got to know each other through questions about travel and tips regarding life in Italy.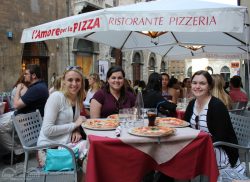 Sunday: Students woke up bright and early so that they could be taken to their new homes in Perugia's city center. Once they were settled in, General Studies students were given a tour of the city while Intensive Italian students took their Italian placement exams. The afternoon offered many opportunities to tour Umbra's facilities and meet faculty and staff during the Institute's open house and its Mandatory Safety and Academic Info Meeting. The day came to a close with a pizza night during which many learned that, in Italy, it is okay to eat an entire pizza by yourself!
Today, Umbra's halls are once again full of excitement as students begin their first day of class.