Sustainability Students Meet Dario Cecchini: Responsibilities of a Carnivore


On Saturday, Umbra students taking part in STFS 330: Sustainability of Food took a day trip to Italy's Chianti region to learn from the renowned Tuscan butcher Dario Cecchini himself. Students began their day with a glimpse at Dario's shop, where he takes creative license to prepare meat in varied styles and flavors, always using every single piece of the cow.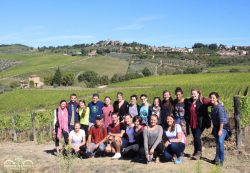 Students then hiked through the surrounding territory to learn more about the geographical region in which Dario raises his cattle (some in the Chianti area, others in Catalonia, Spain) as well as the significance of agriculture in the area. They met and even fed hay to some of the local cattle before returning to the town of Panzano for lunch at Dario's restaurant. Students enjoyed a meal that offered selections from every part of the cow, atop a placemat that illustrated the menu's various uses of meat cuts.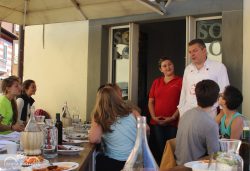 After the educational tour and delicious meal, Dario personally described his work and philosophy as a butcher to the class. He discussed his belief that being carnivorous demands certain responsibilities, stating that it is important to provide animals with a healthy, happy life and a dignified death, and that his business model is based on this same cycle of life and death. The famous butcher repeatedly emphasized the idea that all parts of the cow must be used; a concept reinforced by his sense of responsibility and idea that to waste any part of an animal is an insult to the life of the animal and contributes to an unsustainable lifestyle.