Umbra Alum Kate Davis on Interning in Italy
We caught up with Umbra alumna Kate Davis (Fall Semester 2012) to hear about her return to Italy to work at the Civitella Ranieri Foundation, which supports the work of exemplary writers, artists, and musicians, and how study abroad helped her get there.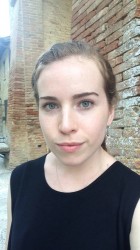 Hi Kate, can you give us a brief description of the Civitella Ranieri Foundation and your role there?
The Civitella Ranieri Foundation provides 6-week residencies to visual artists, composers, and writers, during which time they develop or continue projects. My role was to assist them if they needed any particular help. Most artists give hour-long presentations, so I prepare the Facebook and Twitter invitations, set up the space (physically and with technical set-up), and presented the artists to the visitors and fellow artists. I assisted or led excursions to local artistic attractions, such as the Madonna del Parto in Monterchi (by Piero Della Francesca). Finally, I worked with the kitchen staff to keep track of who would be present or absent for meals, dietary restrictions, and general assistance.
How has studying abroad influenced your worldview and post-grad plans?
Studying abroad at the Umbra Institute was one of the most important experiences for me. My Italian improved greatly, I learned to be a more independent person living and cooking for myself, I made some phenomenal friends (Italian and American) with whom I am still in touch. Because of this experience, I became familiar with Umbria, so when I heard about this job possibility from a professor back in the States, I already had a level of comfort and excitement about the area. I knew that I had to come back after falling in love with Perugia, and the job at Civitella allowed me to visit easily by car or a short train ride.
Do you have any advice for current Umbra students, especially those who might like to return to Italy as you have done?
If you study at Umbra and want to come back to Italy to work, I would strongly suggest practicing Italian as much as possible back at home and reading in Italian. This helped me because all of my office work was in Italian, and it would have been difficult without knowing the language. Also, perseverance is key. It is difficult to find jobs in Italy, so seeking out exciting job possibilities, even short-term ones, involves dedication.
The relationships that I made with staff and teachers at the Umbra Institute lasted beyond my stay and gave me a base when I came back to Italy. Food Studies Program Co-Coordinator Zachary Nowak is friends with my direct supervisor from Civitella, and during my interview we talked about the Umbra Institute, my familiarity with Perugia, and my favorite restaurants! Food is the most important conversation piece in Italy for sure.
Thanks Kate – we're sure you'll keep making Umbra proud!