Agreement with Accademia di Belle Arti "Pietro Vannucci"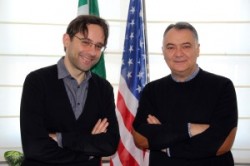 Umbra academic director dott. Burzacca and Accademia director dott. Belardi.
The Umbra Institute has signed an exchange agreement with Perugia's school of fine arts, the Accademia di Belle Arti "Pietro Vannucci". As a result, Umbra students will be able to enroll in courses covering an incredible variety of artistic disciplines, such as painting, drawing, industrial design, and even marble sculpture and metal working.
Accademia students will enjoy access to world-renown faculty as well as a majority Italian student body, allowing for the improvement of language skills in a practical setting. As part of the agreement, Italian students from the Accademia will also have the possibility of enrolling in Umbra courses to internationalize their curricula.
The Accademia is centrally-located just down the street from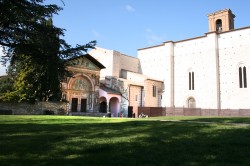 Umbra's own photography, painting, and fresco facilities
in one of Perugia's most famous buildings, San Francesco al Prato. The school was founded in 1573 as the Accademia del Disegno and is the second-oldest school of fine arts in Italy.