Umbra Photography Professor Shares Her Work in Berlin's Foto Biennial 2016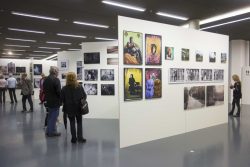 Umbra would like to congratulate Prof. Philippa Stannard, professor of photography and ceramics, on her active participation in this year's Foto Biennial in Berlin.
Philippa is known for participating in shows with photos taken at a number of international destinations, including countries such as Tanzania, Cuba, China, and Australia. This time, her work is taking part in the annual Foto Biennial for Fine Art and Documentary Photography. Four of her pieces are featured among the works of other talented artists from around the world, including artist Steve McCurry who recently published a series of photography based in Umbria.   
Click here to view samples of some of Philippa's work.