Umbra students experience innovative approach to critical disabilities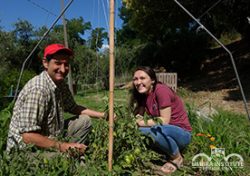 Kasey O'Neill, Keana Albert and Nicole Winter, summer General Studies students enrolled in the Critical Disabilities: Seminar and Practicum, completed five weeks of class and many hours of field experience.
These students participated in the daily life of two Umbra community partner organizations: Fontenuovo, an elderly residence home specialized in the care of those affected by Alzheimer's and dementia; and Nuova Dimensione Association's projects OrtoxOrto Synergistic Garden and Volta La Carta, both of which are designed to integrate people with disabilities into the community.
It is no coincidence that these organizations are in Perugia, a city known for its innovative and inclusive approach to helping those with critical disabilities.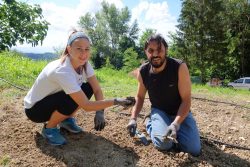 For Nicole, an occupational therapy student at Misericordia University, "The Café Alzheimer at Fontenuovo was incredibly eye-opening. I've been around many people affected by Alzheimer's, and the dynamic approach used by Fontenuovo's therapists in dealing with the patients is amazing. Family members come to see their relatives and do activities with them. [By doing this] they are able to connect on a different level." She adds, "Fontenuovo is different from the facilities I've seen in the States. It does not look like a hospital, it feels like home."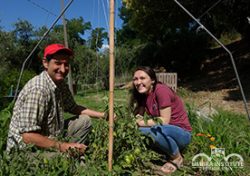 Keana, a biology and medical and health humanities double major at Misericordia University, loved the experience at the synergistic garden. "The patients there are so welcoming and happy to be there with us. It has been an incredible experience, making meaningful relationships with them and learning their stories and the way they live", Keana expressed. "We're understanding more about both the Italian culture and the patients' lives on a day-to-day basis."
This intercultural aspect is significant for Professor Christian Tarchi, who accompanied the students on this academic path, stating "The Critical Disabilities Seminar and Practicum allows students to gain insight into how cultural worldviews influence perspectives on mental and physical disabilities. Students learn to observe differences, relate them to cultural framework, and adapt their thinking (and behavior) to the context. Students learn to break language barriers and rely on non-verbal communication as a means to empathize with people."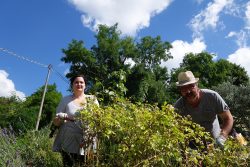 Kasey was inspired by all the social workers she met in these facilities. "My major is in social work, so one of the coolest things was to see social services in a multicultural perspective. Hearing about the educational background of the social workers and seeing how their personalities influence the way they help other people was totally catered to me. I liked being able to connect with someone so different from myself but who shares the same passion as me."
To learn more about Critical Disabilities Studies and other Community Engagement offerings at the Umbra Institute, click here