Umbra Students Make the Headlines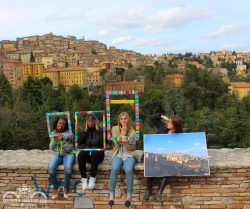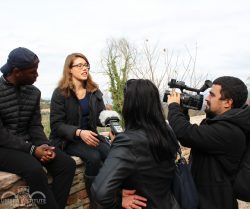 Students Mariah Noth and Derrick Newton, Jr. during their video interview with Luoghi Comuni
Umbra students have a habit of inspiring headlines during their study abroad experience. This semester, ARFP 210: Fresco Painting and ESUS 310: Placemaking: Creating Sustainable Urban Spaces and Communities students started simple by inspiring the Umbra blog with the concept of building community as they continued the terrace project that was begun by ESUS 310 participants during the Fall 2015 semester.
Now, that habit has branched out into the local media of Perugia.
A city-wide magazine, Luoghi Comuni, has recently worked with Umbra ESUS 310 students to create both a video and a blog series to publicize the students' work within inBorgo Bello, an active and artistic neighborhood in the city center of Perugia where the terrace is located; all in order to encourage collaboration with local citizens and bring them closer to the urban planning and community revitalization project. Luoghi Comuni is a magazine dedicated to sharing the initiatives of organizations, associations, and locals who are committed to maintaining and bettering the districts of Perugia in which they live.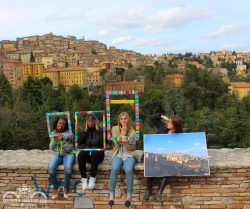 Click here to see the video.
Click here to read Luoghi Comuni's article (in English).
Click here to read more on the Borgo Bello Association.