Umbra Students Write for Local Online Magazine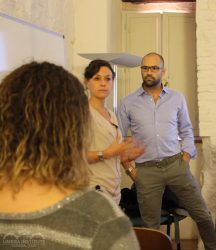 Prof. Elisa Ascione translates the words of SapereFood's Filippo
On Thursday night, ANFS 370: Anthropology of Food and ISLI 330: A Taste for Knowledge students met with Filippo Benedetti Valentini and Emanuela De Pinto, owners and founders of SapereFood Magazine, an online magazine focusing on agricultural topics relative to Italy's region of Umbria. Filippo and Emanuela presented their magazine's background as well as various journalistic techniques to help students with their semester project: contributing relevant articles to be published by SapereFood.
"We always address quality," said Filippo as he explained the importance of Italian exports and more specific information about agricultural products that Umbria exports internationally. He then went on to describe quality food as that which: is created within hygienic conditions; maintains a substance balance and low to non-existent chemical levels; exhibits ideal organoleptic elements (pleases ones senses); and is derived from an origin that reflects the territory in which it is produced, and/or a tradition that stands the test of time.
This semester, students will visit local olive oil and porchetta producers to then contribute articles, based off of their research and experiences, to SapereFood Magazine. Anthropology students will specifically focus on quality origin as they each contribute a Food Story to the magazine's website; while Taste for Knowledge students will focus on organoleptic sensations that will inspire food fiction stories for the website.

Filippo and Emanuela also presented the differences between print and web journalism, focusing on online journalistic techniques that will assist students with their writing assignments. Emanuela also added, "Where we do not arrive with our words, we can arrive with our photos." She shared that students will also be asked to submit photos, explaining that web journalism demands photos that appear inspirational, that show technique, passion, and personality.
After the presentation, students further prepared for their projects by asking questions about how producers are selected as article protagonists, who makes up the SapereFood audience, and how to maintain an ethical approach should a producer not meet expectations.
Click here to read Food Stories and Food Fiction written by past ANFS 370 and ISLI 330 students.