Uncovering the History and Modernity of the Mafia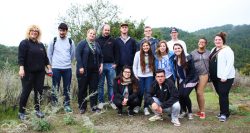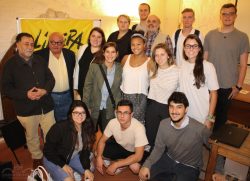 Students after a presentation about the Mafia in Umbra's Aula Magna
 Last week, students in the new HSIT 380: Cosa Nostra: Cinema and History of the Mafia course took part in a presentation about the Mafia, hosted in collaboration with the Libera: Associations, Names, and Numbers Against Mafias, an Italian anti-mafia organization. Italian writer and journalist, Vincenzo Vasile, known internationally for his work writing about organized crime, shared how his childhood in Sicily was directly influenced by the Mafia. His experiences ultimately led to his decision to dedicate his career to covering topics such as the influence of mafia operations and Antimafia Commission investigations within the United States and in Italy, describing how criminal activities evolved, from murder to money laundering.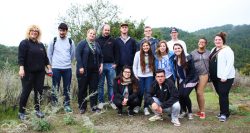 On Sunday, students went to visit the first confiscated property in the region of Umbria, Col della Pila farm in Pietralunga. Students learned that the property was confiscated from Mafiosi thanks to Italian Law n. 109/96. The law, since 1996, has allowed the Italian government to seize property from Mafiosi and give it to cooperatives or associations, who then use the property for community building and agricultural purposes.
Click here to learn more about HSIT 380: Cosa Nostra.