Welcome to Perugia: Students Collaborate with Local Immigration Non-Profit Association to Help Nigerians Feel More at Home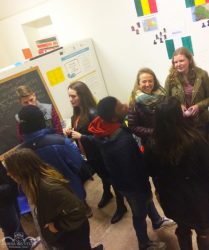 Yesterday, the PYIR 450: Community-Based Research in Psychology students met a group of Nigerians who recently immigrated to Italy at the office of C.I.D.I.S. Onlus. C.I.D.I.S. Onlus is a non-profit association dedicated to helping foreigners, immigrants, refugees and those seeking asylum integrate into the local Italian society and culture; work towards equal rights; and combat discrimination and racism. The meeting began with a conversation about integration and feeling at home in a new place. While sitting together in a circle, each person took a turn answering the question, "What is one thing I can do and what is one thing I would like others to do to help me feel welcome here in Perugia?" Responses ranged from eliciting a simple greeting when meeting one's neighbors to identifying the issue of racism affecting immigrant communities. Afterwards, everyone came together to eat some typical Umbrian snacks and mingle.
The ideas generated by the discussion will fuel a new class research project on intercultural differences and cultural integration facilitated by professor John Lawrence Dennis and will be continued by Spring 2017 students. Umbra students will work together with C.I.D.I.S. and the Nigerian immigrants to find informed and creative ways to make this group feel at home.