End of Semester Art Show Has a New Look!


The end-of-semester art show has been an Umbra tradition since the school opened in 2000. But this year the show took on a new look when displaying student creative work. In conjunction with the Comune di Perugia, the Umbra Institute held the event in an historic building in the center of Perugia, allowing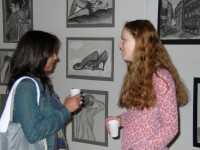 Umbra students and the public to view paintings, drawings, and photographs crafted by our students.
The new facility also allowed for special exhibits to be displayed by advanced painting students Kate Korroch, Kaitlin Wishlinksi, and Rachel Paton.
Termed "ArtEtrA," this semester's event was the culmination for seven fine art courses offered at the Umbra Institute.
In photos: students, staff, faculty, and visitors gather for ArtEtrA 2006; Swati Shroff and professor of photography, Philippa Stannard, discuss the culminating art projects of the spring semester.