The Umbra Facilities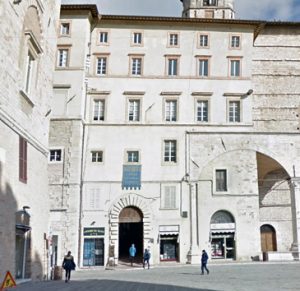 The Umbra Institute is centrally-located at Piazza IV Novembre 23, next to the duomo, the city's main cathedral. Built upon Etruscan and Roman ruins, the building was originally a monastery that dates back to the 13th century. The current façade and courtyard were renovated in the late 18th century. The facility, though centuries old, has been modified and equipped for academic and scholastic pursuits, and was once occupied by the University of Perugia (founding in 1304). Umbra continues to renovate and expand the facility reflecting its continued growth and commitment to its academic community. The Institute's most recent expansion includes a student lounge, the Aula Magna lecture hall, optic-fiber internet, and a didactic kitchen.
The facility consists of two floors and contains classrooms, an art studio, administrative offices, a library, study rooms, faculty rooms, and more. The view from the library and the student lounge is a breathtaking panorama of the main square's famous fountain, steps, and historic buildings. All classrooms are equipped with large flat-screen HD smart displays, video-conferencing equipment for remote learning, digital projectors, and audio systems. High-speed Wi-Fi coverage as well as printing and photocopying for students is available throughout the building.