About the Program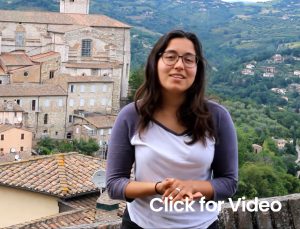 This full-semester program is open to students of all levels of Italian – from absolute beginners to fluent speakers. The program is a dynamic and immersive experience ideal for students seeking to spend their time abroad focusing exclusively on the Italian language and culture, and to actively engage in contemporary Italian life, not simply as "study abroad students", but as temporary citizens of their new university town.
Students are enrolled for an entire semester at the University for Foreigners (Università per Stranieri di Perugia), with academic programs dedicated exclusively to teaching Italian language and culture to foreigners. As a student, you will be able to study alongside a diversity of international students representing over 100 countries, while experiencing European university life as part of the local Italian and international student community.
The program allows students to study and practice the Italian language naturally in a wide variety of real situations, which ensures a practical application of the linguistic structures to the Italian cultural context. It is intensive, immersive and international, and most of all, widely recognized as the best way to gain fluency in Italian and enjoy university life in Italy.
The Structure of the Program (4 courses, 4 months, 16 credits)
The semester program is comprised of four one-month courses at the Universita' per Stranieri di Perugia. Each course includes between 18 and 21 hours per week of courses in language instruction, skills development lab, and conversation at the Italian University. This comprehensive language program is supplemented with weekly recitation sessions and tandem language exchange workshops at the Umbra Institute. Tutoring is available for up to an additional 2 hours per week.
Upon arrival, students will take an assessment exam (test d'ingresso) and be placed in one of six levels of language proficiency ranging from leveled A1.1 Beginner (ITAL 101) to C2.3 Mastry (ITAL 500). The levels of are based on the Common European Framework of Reference for Languages and correspond to 4-credit semester courses in the American system of higher education such as ITAL 101 and 102. Students begin the first month at a particular level (based on placement exam or prerequisites) and then advance one sublevel each month, for a total of four courses in four months.
Sample Spring Semester Program:
January – Level A1.1 (ITAL 101 – 4 credits)
February – Level A1.2 (ITAL 102 – 4 credits)
March – Level A2.1 (ITAL 201 – 4 credits)
April – Level A2.2 (ITAL 202 – 4 credits)
Total: 16 credits
At the levels A1 to B2 (ITAL 101 – ITAL 403), the curriculum is fixed and may not be modified, whereas in courses at the C1 and C2 levels (ITAL 407 – ITAL 503), students select separate components in various disciplines including Dante, Italian Renaissance Art, business writing, Italian literature, and more. C1-C2 level students also explore topics such as phonetics, phonology, morphology, syntax, semantics, dialects, and historical linguistics. These courses supplement the language program and are used as tools to not only teach the subject, but also continue to improve Italian language skills. Advanced students create their own program and may choose up to two elective courses from a variety of offerings in Italian studies in the humanities and social sciences.
---
About the Universita' per Stranieri
The Università per Stranieri di Perugia represents the oldest and most prestigious Italian institution specialized in Italian language instruction. Founded in 1921, today the Università is an important center for both the teaching of Italian and the development of new educational methodologies. It hosts approximately 5,000 students from over 100 different nations each term. The university's principal location is in the beautiful Palazzo Gallenga located in the heart of the city, opposite the 2,500-year-old Etruscan arch of the ancient city and a short walk from the Umbra Institute.
---
Guidance, Tutoring, and Co-Curricular Activities
To ensure that students are able to make the most of their immersion opportunities, they will be guided through all enrollment and bureaucratic procedures at the Università Italiana per Stranieri by a dedicated Umbra Institute staff member. Students will also meet weekly with an Umbra Institute instructor for individual or group sessions, as well as optional tutoring depending on level and needs. Recitation classes review the materials covered at the Università and prepare for their monthly exams. The Umbra instructors' role is to guide, assist, and assess students through their learning experience at the local university. They set weekly assignments, exams, and determine students' final grades in the program. In addition to the activities offered by the Università per Stranieri, which students can participate in all events and activities organized by the Umbra Institute.
Courses and Levels
What level are you? Unless you are a complete beginner, you will look to take the next level course in your progression. Each college and university numbers their courses differently, and it also makes a difference if you have taken the language recently or if your experience lies some time in the past. For example, if you have taken IT201 and IT202 last year (third and fourth semester, second year courses), the next course in your progression most likely will be in the upper 300 level, but you might also test into the lower 400 level depending on the pace of the Italian instruction at your home institution. Before starting classes, you will take a placement test that will determine the exact level for you. If you are concerned about your placement level or have questions about courses and/or graduation requirements, feel free to contact us for a preliminary assessment.
Click the links below for course descriptions and material covered.
---