About the Program


The Direct Enrollment in a local Italian university offers students the unique opportunity to gain a truly immersive experience in Italian culture and in the European style of education. Students will take courses with Italian and international students at one of Perugia's prestigious universities – the Università per Stranieri or the Università degli Studi di Perugia. As Umbra students, participants will also benefit from the same comprehensive services offered (orientation, help desk, 24/7 e-phone, cultural activities, etc.). Students may enroll for the Spring Semester or Full-Year Program only.
Language Review and University Preparation
Each semester begins with an intensive Italian language preparatory course prior to starting courses at the Universita' per Stranieri di Perugia. This period is dedicated to improving language skills and introducing students to the European university setting. Italian language tutorials will be held weekly and led by Umbra professors at the Umbra Institute. All-year students will attend this credit-bearing Prep Program in September/October and spring semester only students will attend the Prep program in January/February.
Program Calendar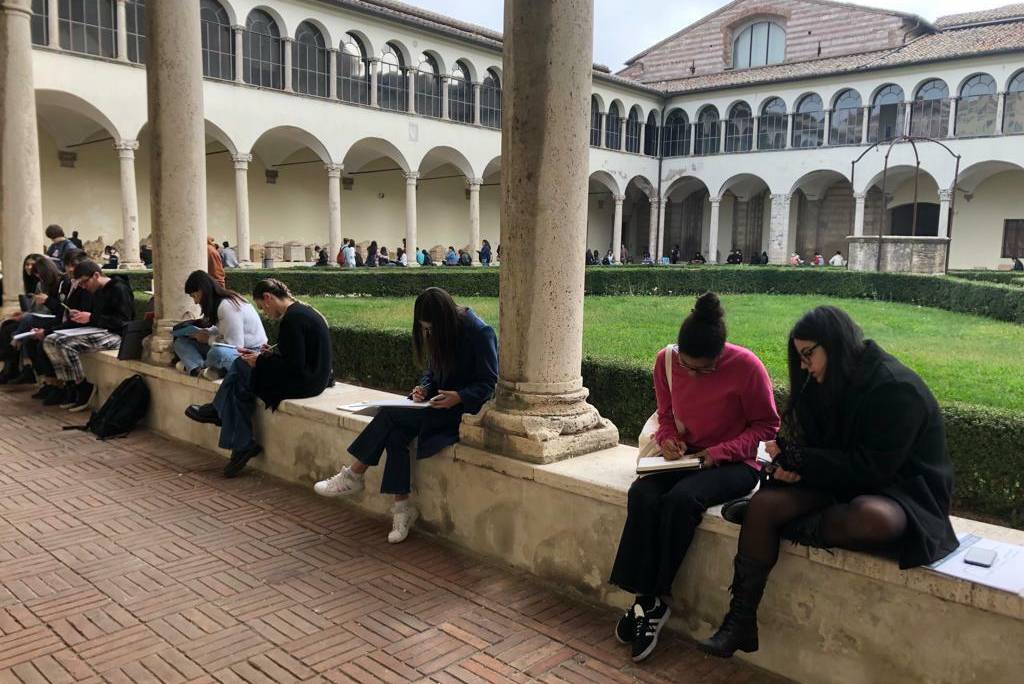 Full-Year Program (September – June)
September – Arrival & Language Review Program
October – Semester One Classes Begin
December – Classes End
January – Semester One Final Exams
February – Semester Two Classes Begin
April/May – Semester Two Classes End
June – Semester Two Final Exams/Departure
Spring Semester Program (January – June)
January – Arrival & Language Review Program
February – Classes Begin
April/May – Classes End
June – Final exams/Departure
---
What is the Università per Stranieri?
The Università per Stranieri is one of two Italian universities in Perugia. Despite its name, it is not a university dedicated exclusively to foreign students, but to all things which make Italy attractive to foreigners (stranieri) in general. As such, it offers majors in International Communications, Digital Humanities, Made-in-Italy Food and Hospitality, and other subjects to students from all over Italy, while also focusing on training those Italian students who want to become teachers and professors of their native language and culture all over the world. The origins of the university go all the way back to 1925, though, when a royal decree established it to be a school for the promotion of the Italian language to foreigners, and indeed until today the university also hosts students from all around the world in their renowned Italian language and culture programs.
What is the Università degli Studi di Perugia?
The University of Perugia is one of the most ancient universities in Italy, it was founded in 1308. Today, research, education, and consulting activities in the various disciplines are organized in 14 Departments, with about 25,000 students, 1,100 professors, researchers, and 1,100 staff members. Nowadays, the University of Perugia offers a vast array of degree programs, which cover nearly all fields of study authorized by the national Ministry of Education, University and Research. The University's teaching faculty combines a long and solid tradition of excellence with a commitment to innovation and an interdisciplinary approach that ensures students the synergies needed for the acquisition of flexible educational training based on a mixture of skills and abilities. Post-graduate degrees are offered in top-rated specialization schools and doctoral programs, as well as a variety of masters programs in various academic disciplines.
---
Courses Available



Each Department of the Università di Perugia publishes a list of the courses activated for the academic year (Fall and Spring semesters). Below are the links of the Università website to some of the most frequently requested departments: Courses are available each semester according to the Italian academic calendar. Please note that courses' offering vary each semester. If you need assistance specifying classes for a course approval form, information about available courses, or if you have general questions about the Direct Enrollment Program, please contact an Umbra Advisor and we will contact you!