Summer Archaeology Program
May 30th – July 13th, 2023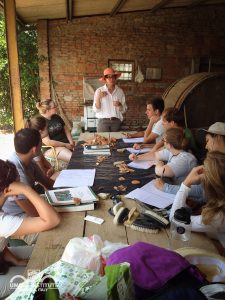 The Trasimeno Archaeology Field School, based in nearby Castiglione del Lago on the shores of Lake Trasimeno between Umbria and Tuscany, provides a curricular concentration in Archaeology and History. This six-week program begins with student arrival and pick-up from the Rome airport and transfers to Perugia for the welcome dinner. After orientation, the group is brought to nearby Castiglione del Lago where they live for the duration of the program.
The Field School is conducted in conjunction with the Trasimeno Regional Archaeological Project (TRAP), a multi-faceted research program that aims to reconstruct the history of human occupation in the region of Castiglione del Lago. This project is a collaboration between the Umbra Institute, DePauw University (Greencastle, IN), and the Comune of Castiglione del Lago. Students who participate in the Field School are engaged in all aspects of the archaeological research, including excavation, documentation, scientific studies, digital modeling, and – beginning in the summer of 2022 – assisting with the installation of a new archaeological museum in Castiglione del Lago.
In addition to the fieldwork, there are classroom lectures and field trips. Students will also have the opportunity to travel in Central Italy as Castiglione del Lago is conveniently situated on the train line between Rome and Florence. Program dates are provided on the Summer Session One academic calendar.
On-Site Study
The Field School consists of two courses, one theoretical and one practical, both based in Castiglione del Lago with daily work on the archaeological site. The program aims to provide you with a comprehensive overview of up-to-date theories and methods of archaeological research and fieldwork as applied to the civilizations that shaped the history and culture of central Italy.