Two Classes Visit "Green" Winery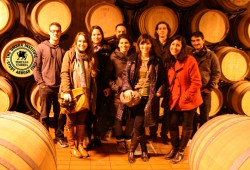 "There's an old peasant proverb: 'Leave the land a little better than you found it,'" said Stefano Cantelmo, head engineer for Castello Montevibiano Vecchio Winery in Italy.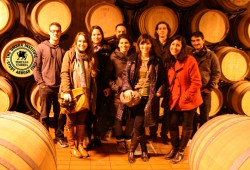 Standing 20 feet below ground level, Umbra Institute students listened carefully as Cantelmo leaned on one of the 200 oak barrels full of new wine on Friday. Two Umbra classes visited the winery in the hills above the Tiber Valley on Jan. 25 and Feb. 1 for Business of Food in Italy and International Marketing, respectively. 
After showing the classes the barrels in the winery's cantina, Cantelmo described his work.
"I designed the sustainability project for the winery," he explained. "We use both high-tech [solar cells, biodiesel] and low-tech [passive cooling, roofs painted white] to reduce our carbon footprint. And in 2010 we were certified zero emissions."
Montevibiano has since won a Slow Food award for sustainable winemaking and an award for wine quality – a great combination for the winery, according to CEO Lorenzo Fasola Bologna.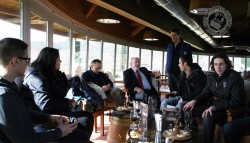 "We started the project because zero emissions was the right thing to do for the environment, and it was the right thing for the winery in terms of visibility," he explained.
Bologna and Cantelmo are interested in the possibility of selling the eco-wine in the U.S. market. 
After the past two Fridays' field trips, the Umbra students will build on service learning projects for each course. The project was started by Food Studies Program Coordinator and Professor Zach Nowak during the spring 2012 semester. This year, Nowak's Business of Food class will be focus on helping Montevibiano Winery write a pitch for an American wine importer, including how to market the "green" wine in the U.S.
"'Green' isn't the typical color you think of when you think wine, but we think it's an even more important color than red or white, in the long run," Nowak joked. "Montevibiano's wine is the perfect marriage of tradition — their castle is over 1000 years old — and innovation. The students' proposals will be focused on how to make eco-wine popular in the U.S., to promote responsible consumption that helps the earth.
The International Marketing students' projects will focus on how to improve the marketing strategies already in place.
"I decided to enroll in International Marketing to broaden my view on how business works around the world and to help understand how to market products to other areas of the world outside of the U.S., specifically in Italy," said Umbra student Michael Durfee. "This field trip helped get a true international perspective on marketing; speaking to the head of marketing at Montevibiano gave me a new insight on how the European market works."
"Today felt like a true Italian experience," Durfee concluded.