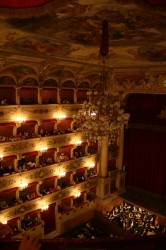 A comedic mixture of love, laughter and jealousy kept Umbra students tied to their seats last night in Perugia's very own Teatro Morlacchi. Under magnificent 18th century frescoes and a charming chandelier, a rapt audience listened as an ensemble cast of tenors, baritones, altos and the like sang The Barber of Seville.
For many, exposure to this famous "opera buffa" and its enchanting lyrics has beenlimited to the liberal interpretations of Warner Bros. Perhaps you may recall the "Rabbit of Seville", staring Bugs Bunny and Elmer Fudd?
Needless to say, what students witnessed last night cast a long shadow over the beloved Looney Tunes of our childhoods, moving the audience to a standing ovation and cries of "Bravo, BRAVO!" Indeed, after spot-on portrayals of the dashing count Almaviva, or the lovely Rosina and her cunning and jealous guardian Bartolo, it would have been a crime not to applaud with the utmost vigor!
And we couldn't forget Figaro, that baritone barber of Seville himself, that grand trickster and omnipresent weaver of webs. In fact, students were left wondering whether it was the Umbra Staff or the sly, yellow clothed barber who organized a tasty apertivo before the red curtain took to the ceiling.