Food Studies Program — Coffee Workshop gets caffeinated!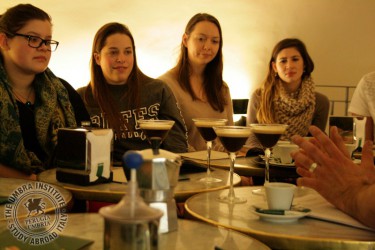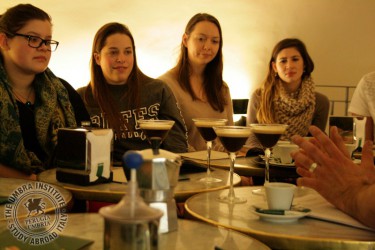 If you go into an Italian café and ask for a "mocha," you'll get a perplexed stare. The same will happen if you request a
cappuccino after 11am. And what about the difference between an espresso in the ceramic cup, and a little glass one.* These and other topics were covered last night in the Coffee Workshop, one of a series of five food-related workshops that are part of The History and Culture of Food in Italy, the core course of the Umbra Institute's Food Studies Program.
Professor Zachary Nowak led the workshop, first talking about coffee's domestication in Ethiopia and export from the Yemeni port of Mokka, then moving on to a word about processing and how making coffee is different in Italy. The workshop closed with a demonstration by Umbra staff member Mauro Renna on how to use the Italian moka coffeemaker, as well as tasting various kinds of Italian coffees. The next workshop will be next week, on the Italian pastime of the aperitivo.
*"Moka" refers to the little hexagonal Italian home coffee maker, not a coffee with chocolate. Cappuccino is only for breakfast in Italy. The glass cup is considered more elegant.