Fresco Painting Class Visits the Abbey of San Pietro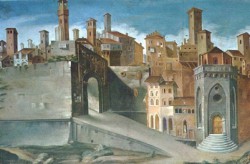 Recently Professor William Pettit's Fresco Painting course, ARFP 210, visited several churches to see paintings on site and to inform their study of the increasingly rare technique of fresco. The highlight of their trip was perhaps the Abbey of San Pietro, with a huge selection of internal and external frescoes from the 14th through 16th centuries. The fresco class also visited the church crypt, which contains frescoes that pre-date the founding of the church around the year 1000 CE.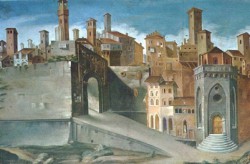 With a young priest as their guide, students took in rare paintings in the sacristy, including a fragment of a Caravaggio canvas. They visited the secret Porta del Paradiso behind the choir to enjoy a view many notable people have enjoyed before them, such as the Queen of England and the Italian poet Carducci, who have left their signatures on the wall.
Like the fresco class's other field trips, for example to Perugia's Galleria Nazionale, this church visit was a great opportunity for students to see how painting functions in a space and to learn to recognize different painting media and styles by both sight and touch.
The fresco painting course focuses on design and technique, where students work in groups to create full size wall paintings in the true fresco style, which has remained unchanged for over 2,000 years. The course is a unique opportunity to study the ancient technique. Umbra is one of the few programs in the world to offer such a comprehensive course in fresco painting. Learn more about the Umbra fresco course here.