Grocery Shopping in Perugia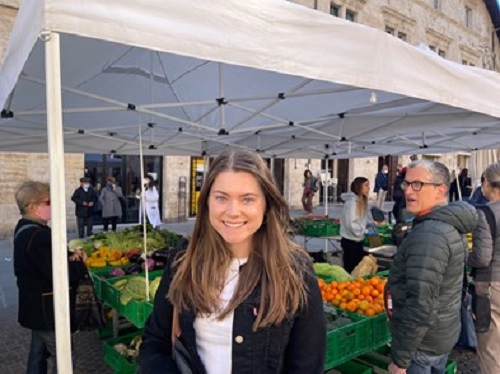 By Lexi DeMarinis, University of Richmond
When you first arrive in Perugia, Italy for your semester abroad you will most likely spend the first week trying every pizzeria, pasta dish, and torta al testo in town. Then, you will realize it would be nice (and cheaper) to cook some fresh food in your apartment that reminds you of home. At this point you will head to the grocery store, most likely the Coop. Here you will find yourself completely overwhelmed by the amount of items packed into the small store, the number of people you bump into, and how different it is from going to the grocery store in the United States. I am here to tell you that grocery shopping in Italy does not need to be difficult, and there are more options for buying food than the Coop. 
General Tips 
Put a glove on (found with the bags for produce) before touching any produce 

After you choose produce put your bag on the scale and select the item on the screen

Place the printed sticker on the produce bag BEFORE you check out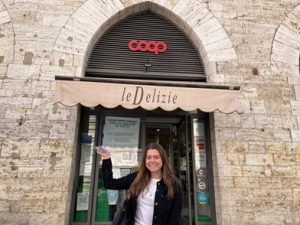 The Coop
The Coop is a great one stop shop grocery store. They have fresh produce, yogurt, milk, fish, and meat, but they also have snacks, crackers, cereal, frozen items and PEANUT BUTTER. While the frozen section is not huge there are some good finds such as frozen soup, fruit, pizzas, seafood, vegetables, and more. My personal favorite is the frozen pumpkin soup, you just heat it up in a pot for a few minutes and enjoy! 
Fresh Vegetables @Via dei Priori, 20
The Coop is great, but if you are looking for guaranteed fresh produce directly from the farm this is the place to go. The owner is very kind, and he speaks great English. You point to what you want, he picks it out and bags it for you. He also gives you the best one of whatever you ask for. For example, if you want a bell pepper, he won't give one that is about to go bad, but instead rummage through the bin to find you the best one. He has a few extra items in the shop as well such as crackers, canned beans, olive oil, and jams. Sometimes he has fresh cut up veggies that you can buy bags of to make minestrone soup. If you don't see what you want, just ask and it's probably in the back. 
Fresh Pasta @Via Cesare Caporali, 3
This very small shop does not even have a name and there is only room to stand and order at the counter from one man who owns, runs, and makes the pasta. I highly recommend going here for a fresh, local experience that you will not get in the United States. The man speaks English, but he will help you through your Italian and urge you to practice. He makes fresh gnocchi, ravioli, and other types of pasta daily. It is also a great place to go if you only want one portion of pasta because you buy it by weight. 
Butcher: Pierini, Via Dei Priori, 15
Again, you can find meat at the Coop, but when in Italy going to the butcher and getting your meat from the shop that specializes specifically in meat is a must have experience. The one on Via a Priori is conveniently located right across from the fresh produce shop. I highly recommend the sausages, they are full of flavor and really cheap, less than 1 euro per sausage. I recently used them to make sausage and peppers!
Pam: Dairy Free, Gluten Free, and Vegetarian Options (Open Sunday)
Pam is a great place for dairy free, gluten free, vegetarian, pre-packaged and frozen meals, and some American snacks. They have a small fresh section (much smaller than the Coop) but I mainly recommend Pam for the alternative products I mentioned above. They have dairy free yogurt and almond milk. They are also open all day on Sunday so when you come back from your weekend travel and realize you have nothing to eat it is a great place to grab a few Sunday essentials.
Alimentari's
These are stores typically run by one to two people and they often sell products from other cuisines. Here you can find Asian spices, noodles, and sauces as well as American snacks and Halal products. They also often have frozen fish and a small selection of fresh produce. These are also typically open on Sunday for some amount of time. 
---
Check Lexi's Instagram highlights about groceries in Perugia on Umbra Instagram page!