Homestay: Living with an Italian Family
"Living in someone's home, especially in a foreign country, teaches you so much more than a language"
All of the Umbra students are housed in the city center of Perugia, but there are a few exceptions.
This Spring 15 semester, student Ethan Fichtner is staying with Orfeo and Rosamunda Ambrosi, a retired couple known in Perugia for their community activism, especially in the historic Borgo Bello neighborhood. A homestay program is ideally suited to students who would like to enhance their Italian studies outside the classroom in a warm, welcoming social setting.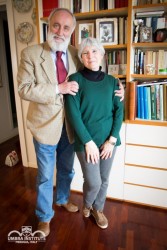 My name is Ethan Fichtner, I am currently a student at the Umbra Institute in Perugia, Italy, and I chose to live in a home with an Italian family during my time here.

A little bit about me – I was born and raised in southern California, I attend journalism school at Arizona State University in Phoenix Arizona, and chose to study in the city of Perugia because if my primary goal by studying in Italy was to learn the language, I didn't want to be in a tourist-trodden city such as Florence where I wouldn't have the opportunity to practice the language. When I saw that the Umbra Institute offered homestays, I was in.

I was placed in the home of Orpheo and Rosamunda Ambrosi – two Italians native to this region in Italy. They are both retired from careers in secondary education and since their daughter has grown up and moved out, the couple devotes large quantities of time socializing as well as serving their community.

Without a doubt I'll say my acquisition and comprehension of the language would not be nearly as strong if it were not for these months living in the Ambrosi home. It's not just the dinner conversations – it's the news that's always on TV in the background, the random things they say to me when I'm brushing my teeth in the morning, the witty back-and-forth banter, the requests to help fold bed linens, the greeting and subsequent mini-interview upon your return from weekend trip to some Italian city – it's all of those little nuances that typify everyday life, but this time, in Italian. Everything is in Italian.

Living in a homestay may not be the most cost-effective or even time-efficient path in language learning because ultimately the learning outcome is dependent upon the individual. But living in someone's home, especially in a foreign country, teaches you so much more than a language. Living in a homestay is, pardon the cliché-ness, "a cultural experience."

Ethan's view of Perugia

I'll just provide one example among many.

I arrived in Italy on January 4th – a Sunday. I met my host parents on Monday, January 5th. Exactly one week after arriving in Italy, January 11th, I found myself seated in maybe the smallest car I've been in with my host parents (who at that point were essentially two strangers who only spoke in Italian) as we made our way through the Umbrian countryside to their home in the country. Upon our arrival, I notice that this is not only a house but also an "agriturismo", or a functioning farm that hosts vacation-goers looking for a quiet and authentic Italian getaway. While I wandered the property and met the farm animals, one by one cars continued to roll in through the gate. Soon enough, lunch came around and with that, my realization as to why we were all there in the first place. My host parents' nephew- it was his birthday. So there I was, enjoying lunch in a room booming with the conversations of 25 Italian brothers and sisters, fathers and mothers, sons and daughters, grandfathers and grandmothers, grandchildren, friends, and pets – all in a house that is older than the United States of America in the countryside of central Italy. This was day 7.

To say that living in an Italian home has helped with my understanding of Italian culture would just not emphasize the point enough. It would simply be impossible to learn what I've learned in four months about Italian culture if I had chosen to live in an apartment with American students. But I will say that both living experiences do yield their respective outcomes and there is no such thing as better or worse – only different.

One of the biggest downsides (initially) to living in a homestay is the physical disconnect from student life I experience as I go home each day. Being surrounded by other students all the time can positively or negatively influence the academic and social experience of the individual. In my case, I think that my academic performance benefitted due to the fact that I had a quiet place to work every evening. However growing friendships with other students in the program required real effort on my part.

I could say a lot about my time here but what matters is this: I tried something new and hoped for the best. Sure I guess it's a risk, but in my opinion a risk worth taking. In the beginning, other students asked questions like how I made food or "isn't it weird not having your own personal space?" Well first off, I do have my own personal space. But the fact of the matter is that I just don't have control over everything and I'm okay with it. Since I've surrendered some control of my daily life to the people I live with, more often than not I get invited into their life.

Would I recommend living in a homestay? Most definitely, yes.

Is it for everyone? Certainly not.

Should you heavily consider it when deciding to live in a foreign country, especially one of a different language? Of course.
If you're reading this and are even considering it, just ask your advisor more about it! I'm a student and wrote this in my free time, I'm not paid by the school or affiliated in any way. I have found this experience to be priceless and think that others should consider it when given the opportunity to live in a foreign country.
DO'S AND DON'TS OF HOMESTAYS
Alessandro Varazi is the housing coordinator for the Umbra Institute. One of her key tasks is to ensure students get paired up with the right host family: "In my experience, students doing the homestay program not only have their language skilled improved greatly at the end of the semester, they have made friends for life. One of our host families even received an invitation for a student's wedding."
Alessandro's tips:
Apply well in advance. There is a lot of interest in the homestay program, which means that sometimes we have to turn students down.
Communicate with your host family. They are responsible for you, so if you are going out, let them know.
IN THE WORDS OF A HOMESTAY FAMILY
Orfeo and Rosamunda Ambrosi have hosted three Umbra students and counting. Both are active members of their local neighborhood association, Associazione Borgo Bello, and love opening their homes to foreigners studying abroad. As Rosamunda put it, "We like to be surrounded by friends, to have a house that lives."
Here are some words of wisdom from Orfeo and Rosamunda for students considering a homestay:
"Students should be prepared to speak only Italian – this is fundamental. They should also be prepared to learn about and adapt to the Italian way of life."
"Living with a family is a way to read our culture."
"We watch soccer together, help with homework, help them understand the Divine Comedy!"
"It also helps to have a family at home [in America] who understands the student is coming into the family home of another."
More information on this page, or feel free to send an email to Renilda, Umbra's housing coordinator.