International Conference a Success
In cooperation with Washington & Jefferson College, The Umbra Institute hosted Bridges Across Culture, a first-time international conference on the arts and humanities, from June 27-30. More than 100 acclaimed academicians from across the globe presented on a variety of subjects pertaining to the liberal arts.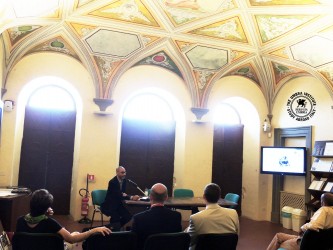 The keynote speakers were Professor Peter Schepelern of the University of Copenhagen, who spoke about the New Danish Cinema, and Dr. Patrick J. Quinn of the Azerbaijan Diplomatic Academy in Baku, who presented his dissertation concerning the failure of certain British poets to write anything significant for a decade after World War I.
Sessions were held at The Umbra Institute's Via Bartolo location and The Uguccione Ranieri di Sorbello Foundation. Every day, Umbra organized informal gatherings such as coffee breaks, a dinner in the Umbrian countryside, and two aperitivi.
"The conference was a success: Four days of interesting panels were combined with ample opportunities to meet international colleagues and continue the academic discourse during the breaks," said Dr. Elgin Eckert, an Umbra professor who co-organized the event with Dr. H.J. Manzari of Washington & Jefferson College.  
"Perugia was the perfect location for an international conference," agreed Manzari. "It's a central location but off the beaten path.
"Even though we were all from different worlds, we connected with English as a common language, bridging the linguistic barrier to share in the diverse topics that appealed to scholars of literature, for example, as much as to those in science education," Manzari added.
Bridges Across Culture was free and open to the public, allowing Umbra students to expand their intellectual horizons.
"A number of undergraduate students currently studying at The Umbra Institute attended conference talks, allowing them to observe and participate in advanced academic discourse during their study abroad program," Eckert said.
 Manzari and Eckert are already in talks about next year's conference.