Featured Blog Articles
Umbra Blog
Orientation at the Umbra Institute
Perugia is abuzz with new students! Umbra's Fall 2014 group arrived on Friday afternoon to sunny skies and warm temperatures – the perfect weather for exploring their new home. 
Umbra's comprehensive orientation consisted of the following: 
Day 1 – Airport Pick up – registration – welcome dinner at hotel
On Friday afternoon after being met by Umbra staff in Rome, students took private buses to Perugia. Students received orientation packets that included helpful handouts covering topics from culture shock to Italian customs. After a filling meal and a good night's sleep, the students woke up on Saturday morning ready to move into their new apartments in the city's medieval center.
 Day 2 – Open house – phone rental – city walking tour – language placement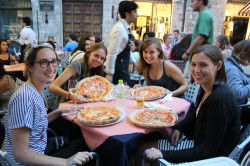 On Saturday afternoon, Umbra students' schedules included Italian placement exams, an open house, and the opportunity to rent cell phones for the semester. Throughout the weekend, students embarked on guided walking tours of the city for practical necessities such as the post office and grocery stores. And what is Italy without pizza? Students experienced their first of several free pizza nights courtesy of Umbra. Outdoor dining, a light breeze, and the setting sun made for a lovely (and delicious) evening.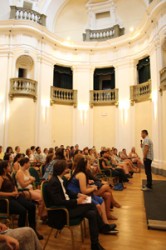 Day 3 – Main orientation – police officer safety speech – community engagement info session
To end orientation on a high note, students spent Sunday afternoon listening to a spirited talk by an Italian police officer who provided practical tips for a safe and positive experience in Perugia. A community engagement info session followed, and students listened to descriptions of the many service-learning opportunities at Umbra that range from academic internships to volunteering for UNICEF.
Day 4 – Survival Italian week begins
Yesterday marked the start of Intensive Italian week, which features a mixture of classroom instruction and practical lessons including ordering food and a trip to the grocery store. Students will surely use their new skills on a daily basis while in Perugia! What's up next? A  travel workshop next Monday night, and the very first Tandem exchange of the semester. Stay tuned for more!
Benvenuti a Perugia!