School Bells Ring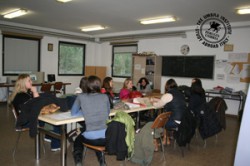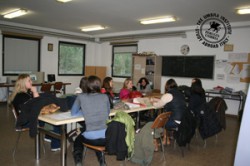 On Thursday and Friday of last week, the students in the INIT 350: Academic Internship and Seminar- Education course visited the two high schools where their internship will take place.  They first met with teachers at the Montessori high school in Perugia to learn about the school's teaching methods and what their role would be in the classroom. Students who choose this internship track will independently develop their own lesson plans and interactive workshops centered around Italian and American music, travel, and culture.
The next day, Friday, January 18th, students walked down to the Alessi Scientific High School to meet with Lucia Amico, the teacher responsible for coordinating the intern program at their school.  After explaining how students would assist the English teachers in speaking and listening exercises, Lucia gave the students a tour of the school. Students in this internship placement will collaborate closely with two different teachers, offering them insight into different teaching techniques and engaging them with a wider student audience.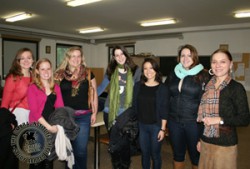 These school visits allowed Umbra students in the Education Internship first-hand understanding of their prospective internship placements.  Based on the two visits, students chose which school's pedagogy and internship requirements interested them most, and placements will be made shortly!